October has arrived and with it the autumn, the rain and the chilly. If you are visiting Madrid these days check our article on What to do in Madrid on a rainy day… it may be helpful! This month program is really promising. Madrid has many exciting events to offer for everybody. Let's take a look!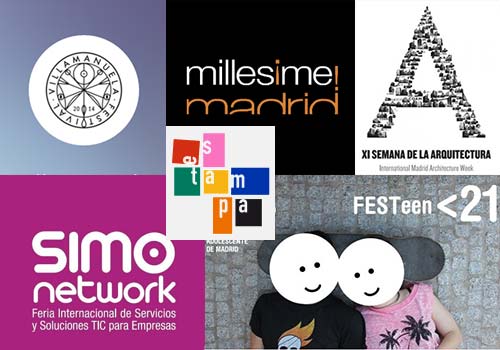 VillaManuela Festival 2014
October 2nd, 3rd and 4th
The VillaManuela Festival is a local initiative in which art, music, cuisine and commerce come together to show the best side of Madrid. All shops in the neighborhoods of Malasaña and Conde-Duque come together to offer a special program that includes concerts, exhibitions, gastronomic routes and a street market in Velarde Street. The concerts will be mainly taking place in TClub and Ochoymedio, two popular concerts halls, but some will be for free on the Plaza de Tribunal. Bars and restaurants in the area will be offering especial prices during the festival.
FESTeen
October 4th and 5th
FESTeen is a program organized by MataderoMadrid riddled with tempting creative proposals for youth between 12 and 21 years old. During the weekend you can enjoy concerts, exhibitions, films and plays; all aimed at young people.
International Madrid Architecture Week
October 3rd to 12th
The Madrid International Architecture Week is an initiative sponsored by the Association of Architects of Madrid to raise awareness of local architecture and city planning. Themes routes are organized by Madrid in order to visit unique architectural masterpieces, often excluded from the tourist trail. Check our Essencial Madrid walking tour, on which you will visit the most interesting buildings constructed during the reign of the Habsburg and the Bourbon.
Estampa
October 9th to 12th
Estampa is the name of an exhibit organized by MataderoMadrid around contemporary art, specifically to photography, printmaking, digital art, sound art, drawing, video and comic. This is the largest fair in Europe aimed at promoting contemporary art graphic. The exhibition coincides with the 23rd edition of the Contemporary Art Salon. This year will count with Miquel Barceló as a guest of honor and the Mexican photography as a main topic. Besides the exhibits, Estampa includes lectures and workshops dedicated to the subject of art collecting.
Millesime Madrid
October 7th to 10th
Millesime Madrid is a gourmet event organized by the Pabellón de la Pipa in the Casa de Campo Park. This well-known gastronomic institution organized a 3-days fair where the most famous chefs of the moment show their creations. The show hosts local producers willing to show their wine, cheeses or hams to the public. This event is especially aimed to gourmet and food lovers. If you are a foodie visiting Madrid, check our Madrid Tapas Tour a new way to discover the city.
SIMO Network
October 15th to 17th
SIMO Network is one of the largest technology fairs in the world. The huge IFEMA facilities will be pack with the best innovations of this year. The protagonists of this edition will be the Apps.