Madrid Museums are full of art pieces, not only by the most famous Spanish painters but from the world best-known painters, sculptors and artist. If you are visiting the city only for a few days, this guide will save you some time while helping you know where the masterpieces of the most famous Spanish painters in Madrid are.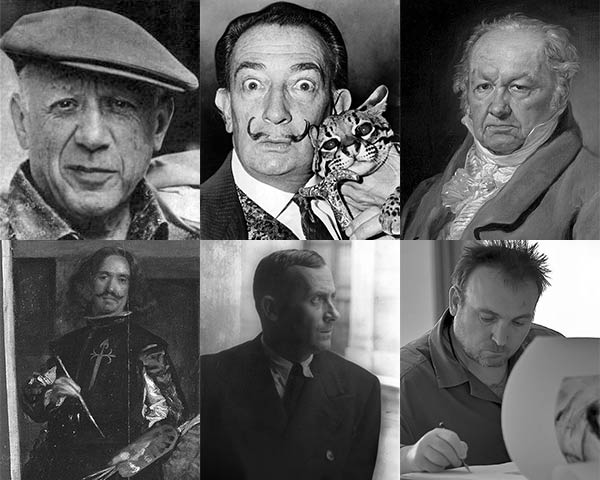 List of famous Spanish painters and their masterpieces:
Dalí
Salvador Dalí is the most famous Surrealist painter. He born in Figueras, a coastal village in Catalonia, in 1904. He was one of the most versatile artists of the twentieth century, was a painter, actor, director, writings, sculptor, stage designer and photographer. He had a very peculiar personality with a remarkable tendency to narcissism and megalomania. The biggest collection of Salvador Dali's paintings is in Saint Petersburg, Florida (USA), but there is a big amount of his masterpieces in National Museum Reina Sofía and Museum Thyssen-Bornemisza, including "Dream caused by the Flight of a Bee around a Pomegranate a Second before Waking up". Reina Sofía National Museum exhibits mainly early works, like "Figura en una finestra" and some of his most famous paintings like "Visage du Grand Masturbateur".
Goya
Francisco de Goya was one of the most Spanish painters. He was born in Zaragoza in 1746 and died at the age of eighty-two in Bordeaux, France. He was one of the creators of the Romanticism, but his unique style prevailed over any artistic trend. The Museo del Prado shows more than one hundred forty Goya's painting and etchings, including the famous duet "La Maja desnuda" and "La Maja vestida". Both pieces are involved in a great controversy over the identity of the woman portrayed. Also, the famous painting "The Third of May 1808" (also known as Los fusilamientos del tres de mayo) put on display in the Museo del Prado.
Gris
José Victoriano González Pérez better known as Juan Gris was one of the fathers of Cubism in Spain. Born in Madrid in 1887, spent most of his career in France. Like most of the Spanish avant-garde painters, Juan Gris, garnered little success in Spain during the early twentieth century. Reina Sofía National Museum exhibit a great collection –more than 40 pieces– of the most emblematic paintings of Juan Gris, including his famous cubist still lifes.
Miró
Joan Miró is a Catalan painter sculptor, engraver and ceramist. He is one of the father of the Surrealist movement in Europe, but he ended up having its own style prevailing over any trend. Reina Sofía Museum shows a collections of his early drawings, some of his latest oil paintings and also several sculptures including "Oiseau lunaire". In contrast, the Thyssen-Bornemisza Museum exhibits one four pieces of this artist, mainly surrealist oil paintings.
Picasso
In spite of the popular belief, Pablo Picasso was born in Spain in 1881. He spent part of his life in France, but he was clearly Spanish. He was one of the most influential painters of the 20th century and the father of the Cubism movement. His famous oil painting "Las señoritas de Avigñón" market the start of a new era in the artistic world. The Museo Thyssen-Bornemisza show a small collection of Picasso painting mainly from his early life. If you are a truly fan of Pablo Picasso you cannot miss the exhibit in Museo Nacional Centro de Arte Reina Sofía where among other "Guernica" –the famous painting showing the war horrors in 1937– is being shown permanently.
Velázquez
Diego Velázquez was born in Madrid in 1599. He was appointed official painter to the court of Philip IV, which was for him a quiet life and prolific career. Velázquez is considered one of the leading exponents of the Baroque Spanish painting. The biggest collection of Velazquez pieces is hold in the Prado Museum, including the famous "Las Meninas".
If you are a fan of "Las Meninas" check the work of Manolo Valdés in the terminal 4 of the Antonio Suarez Madrid Barajas Airport. The sculptures titled "Three Ladies of Barajas" (2004) by Manolo Valdés have become a symbol of Madrid.
Sorolla
Joaquín Sorolla is one of the few Spanish Impressionist painters. Joaquín Sorolla is one of the few Spanish Impressionist painters. He was born in Valencia, Spain, in 1863 In addition to prolific and talented was painted around 2,200 works. One of his best known works are the murals in the Hispanic Society of America in New York, knonw as Visión de España.
Even though, his career began as a realist painter, his technique was changing over the time even dabbling with the postmodernism movement. After his death in 1923, the painter's family donates all his works and his home studio to the city of Madrid. Today this house hosts the Museo Sorolla, with one of the best collections of the painter, including "Walk by the sea" (Paseo por el Mar) on his masterpiece in 1909.
Ramón Casas
Ramón Casas was a famous poster artist and painter, known as the Spanish Toulouse-Lautrec. He was born in Barcelona in 1866. He became famous as one of the founder of Els Quatre Gats –a bar in the style of Le Chat Noir Paris, but located in Barcelona– where many artists like Picasso first exposed. His work in the field of advertising and cartels stills valued for its quality and significance. As a painter he is less known but no less talented, some of his paintings are exhibited at the Centro de Arte Reina Sofía and in the Prado Museum.
Antonio López-García
Hard to define, Antonio López García is the most famous Spanish independent artist. His work has focused on the realistic description –almost using Hyperrealism techniques- of his environment. Born in 1936 in Ciudad Real, his early works reflect the reality of a war-torn Spain. His sculptures representing huge heads are all over the world and his hyperrealistic paintings of Madrid has been shown in the best museum. Antonio López paintings and drawings can be seen in Reina Sofía National Museum, and some of his sculptures in the Atocha Train Station for free.
Miquel Barceló
Miquel Barceló is one of the most famous Spanish living artists. He was born in Mallorca in 1957. Among his most famous works, there are a chapels inside the Cathedral of Mallorca and the fresco of the dome of Room XX inside the Palace of the United Nations (UN) in Geneva. CaixaForum recently held a retrospective of his work and exhibited in all its centers, including Madrid. In Madrid, visitors can appreciate Barceló's talent in the permanent collection of the Museo Nacional Reina Sofía.
Antoni Tapies
Antoni Tapies was born in Barcelona in 1923 and died in the same city in 2012. This abstract painter is considered one of the most famous Spanish artists of all time and one of the most important Informalism painter of the world. His work is scattered throughout the world, but much of it is exposed in the Tapies Museum in the city of Barcelona. Travelers visiting Madrid can enjoy some of his works at the Centro de Arte Reina Sofia.