Even though we enjoyed two La Liga BBVA weeks of fixtures in August, September is the real beginning of the football season. Real Madrid have not started the season off right. The team lost its last match against Real Sociedad 4-2. In this month the team will have to face it eternal rival Atletico de Madrid in an early local derby, Deportivo and Villareal in their home stadiums and Elche in Santiago Bernabeu Stadium. Buy now your Real Madrid tickets for this season.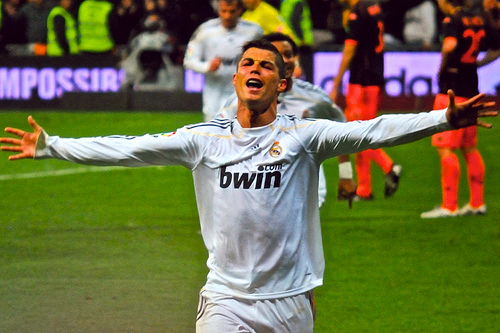 Regarding the team, Ancelotti has surprised the fans with the last signing of the season: Javier Hernández "Chicharito". He will be part of the first team along with James Rodriguez, Kroos and Keylor Navas.
September also marks the beginning of the Champions League. The draw held last September 28th brought luck to the Spanish teams. Real Madrid, Barcelona, ​​Atletico Madrid and Athletic can be satisfied, they can get through the first phase simply. The European champions, who this year released the logo with its ten European Cups, will be facing on the first phase: Basilea, Liverpool and Ludogorets.
Real Madrid La Liga matches in September 2014
Saturday 13th at 8:00 p.m. Real Madrid – Atletico Madrid in Santiago Bernabeu Stadium
REAL MADRID 1 – ATLETICO MADRID 2 (Tiago 10 min. Ronaldo 26 min. and Arda Turan 76 min.)
Saturday 20th at 4:00 p.m. Deportivo – Real Madrid
DEPORTIVO 2 – REAL MADRID 8 (Cristiano Ronaldo 28 min, James Rodríguez 36 min, Cristiano Ronaldo 41 min, Medunjanin 51 min, Bale 66 min, Bale 74 min, Cristiano Ronaldo 78 min, Toché 84 min, Chicharito 88 min. and Chicharito 92 min.)
Tuesday 23th at 8:00 p.m. Real Madrid – Elche in Santiago Bernabeu Stadium
REAL MADRID 5 – ELCHE 1 (Edu Albácar 15 min, Bale 20 min, Christiano 28 min, Christiano 32 min, Christiano 80 min. and Christiano 92 min.)
Satuday 27th at 4:00 p.m. Villareal – Real Madrid
VILLAREAL 0 – REAL MADRID 2 (Modric 32 min. and Cristiano Ronaldo 39 min.)
Real Madrid Champions League matches in September 2014
REAL MADRID 5 – BASILEA 1 (Suchy 14 min, Bale 30 min, Cristiano 31 min, James 36 min, Derlis González 38 min. and Benzema 79 min.)