Madrid was founded is the center of the Iberian Peninsula. In fact, there is a plaque in Puerta del Sol called "kilómetro cero" indicated the center of the country. Geographically talking, Madrid is located over the Spanish Central Plateau which means it has a continental weather. Madrid has cool to cold rainy winters and really dry warm summers. Springs and autumns are mild and enjoyable thanks to the proximity with the Mediterranean zone.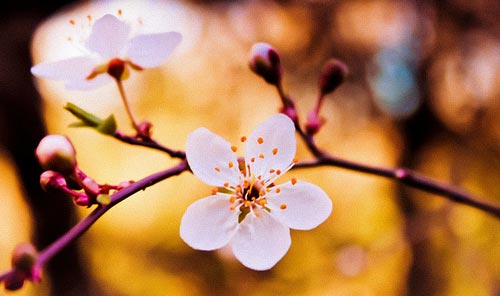 Madrid summers
Summers in Madrid are really hot, especially in July and August. Temperatures can reach 104°F at noon, but freshens at night thanks to the wind blowing from La Sierra. Even though, it is rare that temperatures get below 86°F in summer.
July and August are the driest months of the year, nevertheless summer storms and thunderstorms can be seen occasionally.
Madrid winters
Winters in Madrid hare cold, especially compared with the Mediterranean coasts. Temperatures below 32 °Fcan be reach occasionally, especially at night. The coldest month is January, follow by February and December. Even though the rainiest month is May, it rains frequently from November to February and sometimes even snows in the coldest days.
Madrid springs
The best time of the year to visit Madrid is spring, when flowers bloom everywhere. Spring is also the rain season, especially during April and May. June is drier compare with April and May and cooler compare with July and August. June is the best moment visit Madrid.  In spring, the temperatures go from 82°F to 92°F. Check our ideas for what to do in Madrid in spring and what to do in Madrid on a rainy day.
Madrid autumns
Autumns in Madrid pass by easily from the warm and dry September to cool and rainy October and November. Temperature goes from 98°F to 72°F depending on the year weather. Autumns are the best time to visit Madrid surrounding and contemplate the magnificent Sierra landscape turning from green to orange. It is also the perfect time to enjoy Madrid traditional gastronomy, including wild mushrooms, game, pumpkins, apples, etc.
2014 Summer Forecast in Madrid
July foresee to be warmer than August. The temperature average in July is going to be 91°F, but in August will be 82°F. The sun will be shining almost every day, except for the three week of July when some showers are expected.
2014 Autumn Forecast in Madrid
After a very rainy and cool summer, September 2014 is shaping up as a very warm month with some punctual thunderstorms. October will surprise with temperatures above 68 °F. November for will have an average temperature of 59 °F and a maximum of six rainy days in the third and fourth week. The first 22 days of December will have an average of 53 °F and little rainfall. A very sunny and warm autumn, ideal for visiting Madrid.
2014 – 2015 Winter Forecast in Madrid
The shortest day of the year will be sunny with temperatures between 55 and 46 ° F. December will generally be slightly rainy month, which predicts a massive  New Year's Eve celebration in the Puerta del Sol. Both Christmas Eve and  Christmas Day will be sunny with temperatures above 55 ° F. However, it seems to rain the day of the Epiphany Parade.
Although autumn has been dry, it is clear that January will raise the level of the water reservoirs in Spain. The first two weeks of the year augur rain, although temperatures will remain at 50 ° F on average. In late January temperatures drop sharply and announce snow especially on January 18th, 19 and 20th. Low temperatures will remain throughout February, but begin to improve in the first week of March reaching even 59 ° F.