Madrid is considered one of the best cities to spend Christmas and New Year's Eve. For those visiting Madrid in Christmas will be surprised with the lively decorations and festive atmosphere.If you like Christmas, Madrid is your ideal destination, since here the festivities continue through the first week of January with the Epiphany Parade.
Check our proposals for Christmas in What to do in Madrid in Christmas and for those visiting during the holyday season What to do in Madrid in December.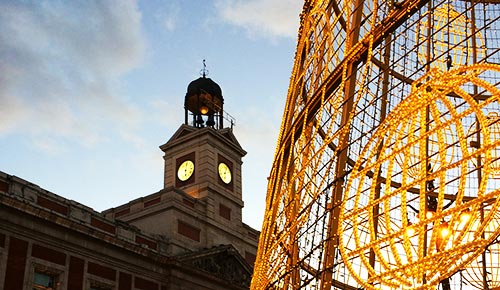 New Year's Eve in La Puerta del Sol
Like París or New York City, Madrid has a great public celebration on New Year's Eve. The show takes place in Puerta del Sol –the square in the center of Downtown Madrid. People around Spain watch the spectacle on TV, but locals get together early to reach the square enjoy it live. Unfortunately, to grab good spot in the Puerta del Sol leaves dinner after midnight, so make sure you grab something to eat before taking the subway on New Year's Eve.
To celebrate the arrival of the New Year in a proper way, you should bring to the show 12 grapes per person. Grapes, may you wondering… In Spain they eat 12 grapes for each of the last 12 second of the year, while making a wish for each grape eaten. The clock in the Puerta del Sol plays a stroke per each second… which greatly facilitates this ritual of considerably complicated. It takes practice and skill to eat so much fruit in such a short time, but it is really fun!
After the twelve strokes, everybody welcome the new year. The crowd goes wild kissing and hugging each other while enjoying the amazing fireworks display. There are all good wishes. Most of the people brings wine or champagne to celebrate, which helps a lot to finish down the grapes. There is usually illegal to drink in public in the street in Spain, but during New Year's Eve the authorities make an exception. Check Legal drinking age in Spain.
The twelve grapes of luck
There are many stories behind the tradition of the twelve grapes in Spain. The most plausible of these is that in 1895 the surplus of grapes in Spain far exceeded expectations. So, the producers made a campaign to increase the consumption of grapes, saying that they give luck to thoes who eat them in New Year's Eve.
Puerta del Sol Clock
This clock after spending a century of operation continues to the chimes every year in the ritual twelve grapes. Town Hall Clock, is it really a watch tower placed in a shrine on the Casa de Correos in Puerta del Sol. It was inaugurated in 1866 to honor Queen Elizabeth II on her birthday. The clock was designed by the Spanish watchmaker Jose Rodriguez Losada and donated to the people of Madrid.