In the history of Flamenco, there have been several remarkable artists that were and still are symbols and references for new generations. The guitarist Paco de Lucía and the singer Camarón de la Isla are two of them. Both literally changed Flamenco and helped make this culture known all around the world.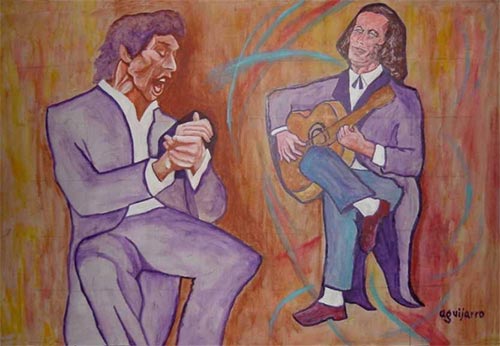 Paco de Lucía
The composer and guitarist, Francisco Sánchez Gómez, known as Paco de Lucía, was born in Cadiz, Spain in December 1947. He started to study the Spanish guitar by the hand of his father, Antonio Sánchez Pecino, also a guitarist. The great musicians Niño Ricardo and Sabicas had an important musical influence upon him.
Paco de Lucía grew up in an environment quite close to the Flamenco culture. Very soon, he started to have contact with important artists. In 1962 he recorded his fist album among his brother Pepe. Afterwards, he started working with important singers such as El Lebrijano, Fosforito and Camarón.
His music started to be widely known and, little by little, other genres of music became part of his own style. Actually, he was the first musician to introduce other styles such as jazz, classical music and bossa nova to Flamenco.
Camarón de la Isla
José Monge Cruz, known as Camarón de la Isla was born is San Fernando, Spain in December 1950. He grew up in a gypsy family, and hence, was always surrounded by Flamenco artists; in fact, various renowned singers of that time, such as Manolo Caracol and Antonio Mairena, used to go to his family's house.
Unfortunately, his father died when Camarón was very young, and due to the precarious conditions of his family he started singing in various taverns to raise some money.
In 1968 Camarón started to work permanently in one of the most important tablaos in Madird: Torre Bermejas. He worked there for twelve years with the guitarist Paco Cepero.
His album Soy Gitano, recorded in 1989 was the best-selling record of the history of Flamenco. He had a great influence upon Flamenco culture and the way most traditional gypsy artists made their culture universal.
The two artists
Paco de Lucía and Camarón de la Isla met in Torre Bermejas and from that moment on they started working together. They were a remarkable duet. Just the sound of a chord and the encounter of their looks were enough to create utter magic on the stage.
Both of them had particular and shy personalities and that was something that made them closer. They only needed to start playing and the whole world changed for them and for anyone who listened. The two geniuses brought their music to every part of the world.
Definitely, Paco de Lucía and Camarón de la Isla played an exceptional part in the history of Flamenco and a lot of what Flamenco has become today is thanks to them.
If you are in Madrid don't lose the opportunity of going to a Flamenco tablao and enjoy this fascinating culture.