Madrid gets completely transformed during the holidays, you can really breathe and feel the Christmas spirit. Markets, nativity scenes, shopping, concerts, lights shows, special food… there are many things to do in Madrid in December in Madrid. The article also includes some suggestions for those Grinch coming to Madrid.
Christmas Market in Plaza Mayor
November 29th to December 31st
The Christmas Market in Plaza Mayor is one of the oldest traditions in Madrid. This magnificent square, which hosts concerts, fairs and other events the rest of the year, shows its best face during Christmas, when hundreds of stalls dress it. Mainly the market offers handcrafts works, Christmas decorations and gifts in general.  Besides shopping bargains, visiting Plaza Mayor is mandatory since it is a symbol of the Austrians borough. Enjoy this historical place complete decorated and get into the Christmas spirit.
There are other Christmas Markets in the city, check Things to Do in Madrid at Christmas.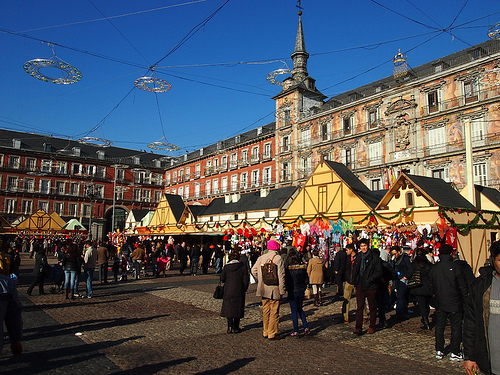 Christmas Shopping
There is always a good time for shopping, check our Madrid Outlet Malls Guide. Madrid becomes the capital of shopping at Christmas, most of its streets fully decorated get crowded with people eager to buy their presents. Check the atmosphere in Serrano, Preciados, Arenas and Carmen streets and also in Puerta del Sol.
If these is your first time in Madrid check El Corte Ingles, the biggest department store in Spain, where you will find almost anything you need. Unfortunately, the big sales does not start until January 2nd. There are not Christmas sales or Black Friday in Spain. If you are looking for premium brands and jewelry visit Salamanca Square, but if you are looking for something different check the novel designer stores in Fuencarral Street.
Nativity Scenes Exhibition
Many people from other cities and other countries come to Madrid to attend the Nativity Scenes Exhibitions. This exhibition can be seen in different official buildings, such as the town hall, the municipal museums and the local government offices. Some of the most visited Nativity Scenes are the Madrid's History Museum, the San Isidro Museum, the Plaza Mayor, the Cultural Center Fernando Fernán Gómez and the Casa de Correos.
Another curious tradition for kids is Cortylandia. The department store El Corte Inglés sets an original Nativity Scene every year, using animated characters like animals, fairies and friendly monsters in lieu of the historical characters of the Virgin Mary and Saint Joseph. Children love it!  It is located in Calle Maestro Victoria, right in front of the El Corte Ingles rear facade over Calle Preciados.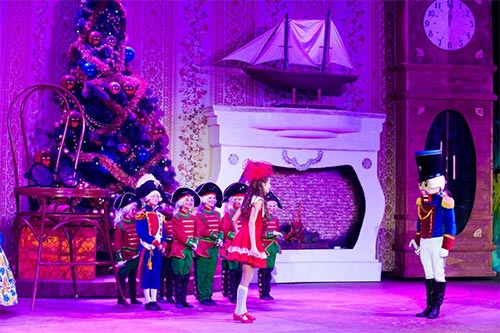 Theater, Concerts and Musicals
Christmas season is the perfect time to get together and go to the theater in family. The stages of Gran Vía and almost every theater in the city host shows that can be attended by children, parents and grandparents, like The Nutcracker or A Christmas Carol.
Many concert halls organize a lot of things to do in Madrid in December that are Christmas oriented and loved by all ages. Check the program in the Auditorio Nacional, where they have a cycle oriented to families called Excelencia, they will be performing classical and Spanish carols on December, 20th.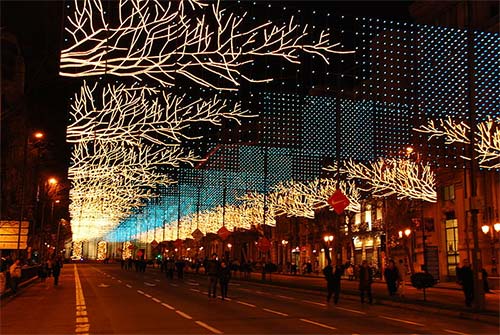 Museums
The holidays are the ideal place to educate children in the house at the time love of art. There are many interesting exhibitions to visit in December in Madrid, the most interesting place in the  Museo del Prado. "Las ánimas de Bernini" (Bernini's souls) is the largest exhibition of the work of prolific Italian artist ever held in Spain. The exhibition will remain open until February 6th.
Christmas is time to remember, and what a better way to do it than assisting to a photography exhibition. "El rostro de las letras" is an exhibition at the Exhibition Hall of Alcalá 31, which collects the work of several photographers of the nineteenth and twentieth century.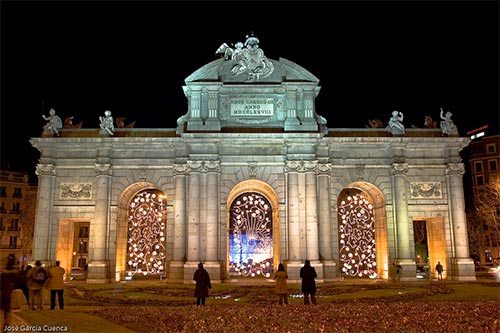 Food and markets
Holidays are synonymous with good food, and what better way to honor it than acquiring the best ingredients and trying the best recipes of the most prestigious chef in the country. Madreat is a new culinary proposal that meets the third weekend of every month in the Botanical Garden of Madrid. It is a kind of gastronomic outdoors fair where you can enjoy amazing recipes and buy unique products fair. Another interesting proposal is offered Matadero Madrid on December 27th and 28th. La Feria de los Productores brings together the best food artisans in the country in an outdoor market where locals can purchase their products with big discounts.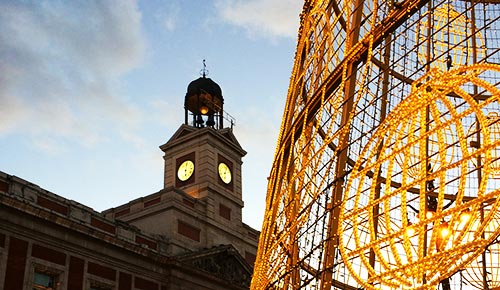 Saint Silvester Road Race
For those who are not interested in the holidays we propose an unusual way to receive the New Year, running. La Carrera San Silvestre (San Silvestre Race) happens the night of December 31st, every New Year's Eve for over 30 years. About 40,000 people dispute this race every year and celebrate the New Year in a different way, come and join them!
Welcome the New Year in Puerta del Sol
There is plenty to do and organize during the last day of the month of December. The first thing you have to buy is the "12 grapes of luck", a bottle of cava and a festive outfit. In this city New Year's Eve is a huge celebration with fireworks and lots of live music in the famous Puerta del Sol. This square is located in the geographic center of Spain and Madrid. The clock on the Casa de Correos is responsible to announce the last twelve seconds of the old year and the exact moment to eat each grape of luck. Make a wish! Come to celebrate New Year's Eve in Madrid.
Turrones, Roscón y Mazapán
Christmas is definitely a time for food. Spaniards usually eat sea food on Christmas Eve and on New Year's. The reason of this menu originates in the idea of celebrating with an expensive and unconventional meal. Normally a good holyday's season menu includes crab, lobster and oysters. The unlike other place food comes with the desserts. In Spain people take turrones (nougat) and mazapanes (marzipan) for dessert.
The Spanish nougat is not like the one known in America, UK or Eastern Europe. This is made with almonds, honey and sugar. There is a very impressible variety of nougat in Spain, but the most popular are: Xixona and Alicante. Jijona or Xixona nougat is soft made out of almond's paste and honey. Alicante nougat is crunchy and made of whole almonds and nougat candy. There are also different flavors of nougat with chocolate, toffee, coffee, yogurt, fruits and licors.
There are stores specialized in turrones, like Casa Mira (Carrera de San Jerónimo, 30), El Riojano (Mayor, 10) and Lhardy (Carrera de San Jerónimo, 8). This three stores are some of the oldest Candy stores in Madrid.
There is also a sweet specialty eaten by Epiphany, the roscón. This huge sweet bagel is worth to try. Check our recommendation on Celebrating the Epiphany in Madrid.