Plaza Mayor is one of the most visited Madrid attractions. Its enclosed space provides a place for peace and relaxation in the heart of the city. Provably, this square embodies the most traditional Castilian style. The structure of the square served as a model for the construction of many similar squares in Spain, becoming the ideal of the traditional Spanish plaza.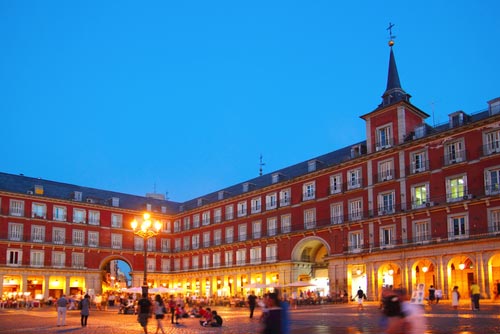 Plaza Mayor Facts
Its original name was "Plaza del Arrabal".
Plaza Mayor acquired its current appearance in 1580 by Philip II.
Plaza Mayor is a design of Juan de Herrera and is considered to be done in "Habsburg" style.
Although the work began in 1580, was not completed until 1619.
It has suffered three major fires, the last in 1790. The reconstructions was commissioned to the architect of the Court, Juan de Villanueva. He is the designer of the current appearance of the square.
The main building in Plaza Mayor is called "Casa de la Panadería", it translation would be approximately "Bakery House".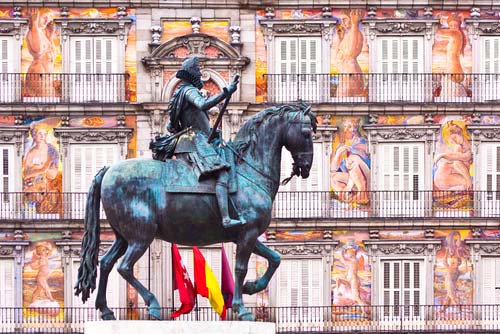 Plaza Mayor Statue
There is only one statue in Plaza Mayor and is located in the center of the space. It is the equestrian statue of Felipe III. It was designed by the Italian sculptor Gianbologna and made by his follower Pietro Tacca in 1616. The statue was commissioned by the Grand Duke of Florence as a gift for the King of Spain. This monument is one of the best known images of Madrid.
Restaurants and Tapas Bar
Plaza Mayor is one of locals' favorite place to go tapas in the evening There are many good restaurants and tapa bars in and around Plaza Mayor. Some of these restaurants are on the list of historic commercial establishments in the city, as the " Salón de Tapas Plaza Mayor." Fully decorated in emerald green lacquered wood and mirrors, this is the classic Madrid bar to take a tapas and a vermouth on tap.
Casa Rua, also in the square, is an institution in the city. It is said that here the best calamari sandwiches are made around Madrid. Although it is not located within the plaza, the Museo del Jamón has a branch in the nearby Cava de San Miguel. In the same San Miguel St, you will find the Mesón del Champiñón a restaurant specialized in mushrooms and wild mushrooms, and the Mesón de la Guitarra where you can try good tapas and listen to live flamenco music.
If your want to try the real experience of tapas, try our Madrid Tapas Tour.
How to get to Plaza Mayor
Plaza Mayor is located in downtown Madrid. There is not a metro station called Plaza Mayor since this is a historical area, any way you can take the subway to Puerta del Sol or Opera and then walk 4-6 minutes. Plaza Mayor is inlcuded in almost every guided tour in Madrid, like our Essential Madrid Walking tour.