August is here! Vacations are here! August is the most common month when Spaniard take their vacations. If you visit Madrid on this time of the year, you will find a peaceful city, full of joy and parties.
August Festivals
The most significant summer festivals begin with the Feria de San Cayetano (2-8 August), continue with San Lorenzo Fair (August 9-11) and ending with the largest and most important of all, La Paloma –the Virgin of the Holy Spirit– (August 12 to 15). San Lorenzo and San Cayetano church are both in the Lavapies district, so make sure to pass by area if you are visiting Madrid in August.
La verbena de la Paloma or La Paloma Fair inspire one of the most famous zarzuela –a lyric-dramatic genre, like an opera but with Spanish rhythms. The namesake piece is set in Madrid during the Virgin of the Holy Spirit fair in 1893.
Football Matches
Even though you call it football or soccer, you are a Real Madrid fan anyway. Enjoy watching the local team fighting to demonstrate which one is the best club. Spain Super Cup is the encounter between La Liga Champion and Copa del Rey winner of the year. Come and watch the new teams' players: James Rodriguez, Keylor Navas and Antoine Griezmann. Buy now your tickets for on August, 19th at 11:00 p.m. in Vicente Calderon Stadium, or for August, 22nd at 10:30 p.m. in Santiago Bernabeu Stadium.
A night at the Ballet
If you enjoy flamenco and classical ballet try Sorolla! This show is a journey through the Spanish geography, culture and folklore. The show is based on "Vision of Spain", a Joaquín Sorolla painting collection commissioned by the Hispanic Society of New York in 1911. It will be shown in Los Teatros del Canal from August 28th to September 14th.
A bullfighting afternoon
Enjoy the Spanish tradition of bullfighting every Sunday in Las Ventas Bullring in August. Buy your tickets to bullfighting in Madrid.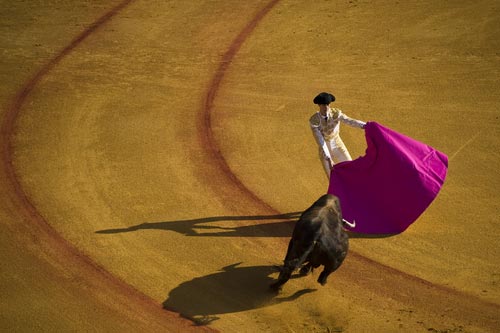 A day at the Museum
If this is not the first time you are travelling to the city, try to avoid conventional visits. There are dozens of museums in Madrid showing different exhibits in August. The National Museum of Science proposes a Pablo Echevarría drawings expo titled Pan's Labyrinth. The drawings will be accompanied by pieces of the museum that inspired the artist.
PhotoEspaña 2014 proposes a brilliant collection of over 200 snapshots performed by 40 photographers showing Spanish architecture from 1925 to 1965. Kindel, Català-Roca, Pando, Paco Gómez, Schommer, Muller, Férriz, Luis Lladó and Margaret Michaelis are some of the photographers that participate in this interesting exhibit in Museo ICO.
CentroCentro is showing La ciudad de las Viñetas. This interesting collection of vignettes done by local famous cartoonist José Ja Ja Ja shows the artist interpretation of Madrid. It is a interesting and different way to see city!