September is the beginning of wild mushroom, pumpkins and game season; three ingredients you can taste easily in almost every restaurant in Madrid. At this time, the city is back to normal, you will see people going to work and having business meetings; that means less lines in museums and any other city attractions.
How is weather in September in Madrid?
September is a great month to visit Madrid! Extreme heat has gone down, but the sun still shining for hours. If you hate to tour around a city with your umbrella, pack your stuff and go to Madrid in September –the driest month of the year. In September 2014 rains are expected only in 3 of the 30 days of the month. The temperature average will be 28 °C. If you are visiting the city in the last week of September, pack a jacket! The temperature average that week will be 23 °C.
5 things you certainly do if you visit Madrid in September
Enjoy Real Madrid vs. Atletico de Madrid
Real Madrid and Atletico de Madrid are facing each other in a local derby early this season. The match will take place in Santiago Bernabeu Stadium on Saturday, 13th at 8:00 p.m. Buy your tickets to have a memorable experience watching your favorite team win this match.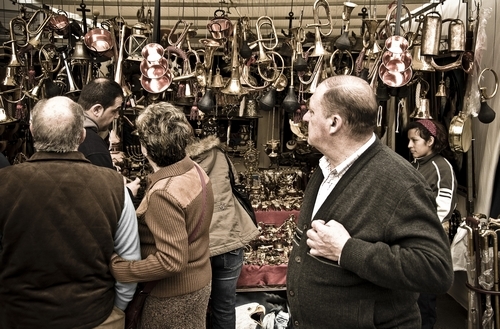 Shopping in El Rastro
Every Sunday the whole city goes to one place, El Rastro. It is huge street market with hundreds of stall selling second-hand clothes, records, jewelry, furniture, antiques, collectable objects, food and almost anything you can think of. This flea market is a free experience where you can have the feeling of "living in Madrid like a local".
If you are in Madrid on Sunday, try visiting other markets or flea markets, like Mercado Central del Diseño in Matadero Madrid or Ciento y Pico Market in Malasaña district.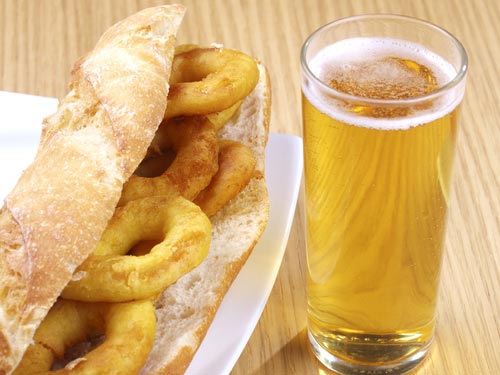 Try a calamari sandwich and tapas
Calamari sandwich is a typical meal in Madrid. If you are visiting the city you have to try calamari sandwich for lunch and in the afternoon go "tapas". If you want to experience the real tapas night, book a tapas tour and try the gourmet markets in Madrid.
DCODE Festival
DCODE Festival organize indie rock concerts in Madrid from September 12th to 16th.  The Complutense University of Madrid hosts the best of indie rock music scene both nationally and internationally. This year you can enjoy listening to Beck, La Roux, Chvrches, Vetusta Morla, Jake Bugg, Bombay Bicycle Club, Band of Skulls, Royal Blood, Anna Calvi, Russian Red, Wild Beasts, Digitalism DJ and Francisca Valenzuela.
Mercedes Benz Fashion Week Madrid
Twice a year, Madrid becomes the capital of fashion. IFEMA, Madrid's Convention Center, is the headquarters of the Mercedes Benz Fashion Week Madrid. If you are a fashion victim you definitely have to come to Madrid in September.