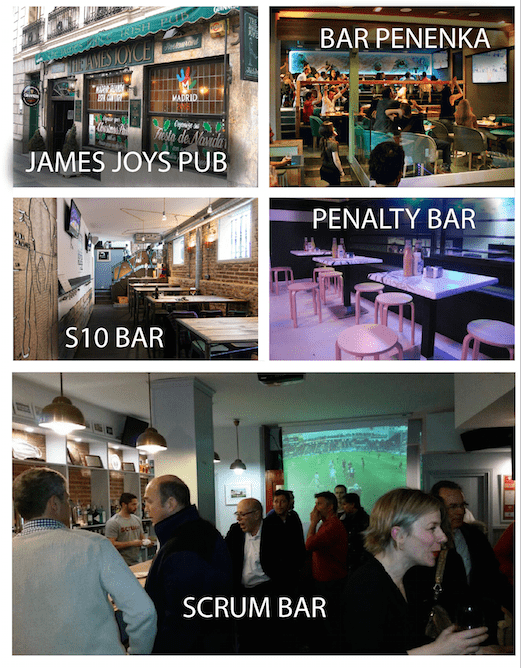 Most foreign tourists recognize Madrid as a city where the sport exists in every corner. It's normal when Madrid has a one of the best soccer teams that representing the city, country and Europe.
Real Madrid has stolen the attention of tourists on their visit to the city. Many seek to live the passion for soccer in real time and here we present the top 5 of the best bars so you can feel every game in a soccer atmosphere with the best tapas and beers in town.
Bar Penenka, it is one of the most famous sport bar in the city of Madrid. In this adequate space for the comfort of a passion for the sport, you will find a unique opportunity to enjoy the sport on television environment. They have a varied menu but the burgers will always be the recommended dish for us.
S10 Bar, is a fairly new restaurant and bar, since they opened in 2013 has earned very good reputation when it comes to watching football matches of the Champions League or the Spanish league. It is a sports bar with 6 large screen so that everyone has coverage of the game from anywhere in the bar. Additional recommend you try their homemade recipes.
Lounge Bar penalty, its location makes it a busy place, because it is adjacent to the Bernabeu and makes the magic of football sits more. To accompany your experience, you can combine it with a nice dinner where I could not miss a good beer; we recommend you try a cold shank to accompany your menu.
James Joyce Irish Pub, is a restaurant where there is the ability to watch live broadcasts original version in three screens. The interesting thing about this bar is the concert after the game offers. You can have a dinner of Spanish and Irish recipes accompanied by excellent sports atmosphere.
Scrum Bar is a bar that its main function is to make the client a leading sport. This restaurant offers the transmission of the matches of Spanish and European league. Additional is a bar that offers rugby when no football matches, so if you are keen on football and rugby this will be the best option.