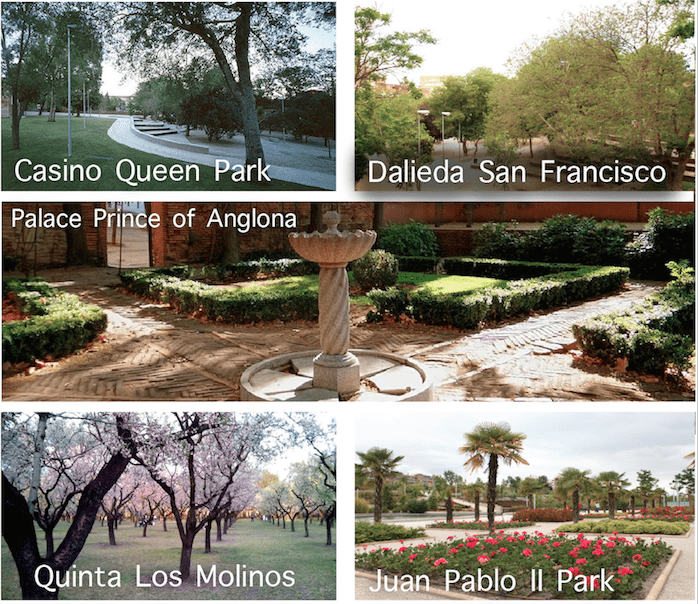 Retiro Park is not only the only option of green areas that exist within the Capital of Spain. In fact here we will review the five most striking gardens and you should not miss on your visit to Madrid. These 5 zones that they can be called hidden because not many locals knows about there and the great beauty that have.
Palace Gardens Prince of Anglona
In the heart of Madrid, this green space is surprising to any passer by its beauty and also for its tranquility. Despite being one of the green gems of Madrid, many city residents do not know. The gardens have a neoclassical design has small sources and the most interesting is that it has two covered walks which fills the place of mysticism and comfort to have a special event or simply accompany an afternoon with a good book.
This is a park that has about 20 hectares of ponds, gardens, fountains and above two mills that are what give the name to the Quinta. Making your visit in the spring time is a great success due to the presence of the flowered almond trees and the number of plants and rose bushes at this time of year are reborn. In case you can not see them in the spring, this park is always an option for a family recreation activity.
It is a renovated park offers visitors a green space where you can take a break after visiting the most emblematic places of the city. This park was a gift that made the city of Madrid to Isabel de Braganza after not give care, Queen Elizabeth II returned and has been renovated to accommodate both athletes and tourists looking for a place to relax and enjoy green part of the city.
This park contains a theme park with gardens sun and water, proper gift of city trees mix with fruit trees, olive trees and vines, making this an ideal set of modern gardening with Mediterranean gardens. This park is a representation of the evolution of Arabic landscaping, the Middle East and the medieval. This corner can not miss a visit if you love green areas.
A garden that puts the dahlias as a point of recognition of this green area. With more than 700 dahlias of 40 different species, the garden next to the Basilica of San Francisco El Grande, has one of the highest viewpoints in the city in which at its peak emerges a sculpture of San Francisco Labrador.
Complement your visit to the capital with a walk an area full of beauty both in its gardens and its location gives a panoramic view of the city.