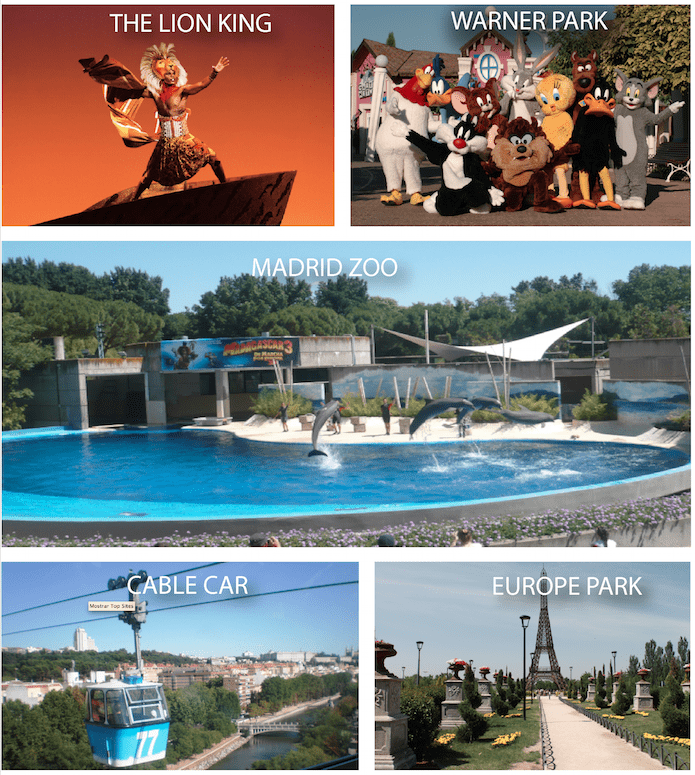 Its time to dedicate a space for the kids, not only couples and friends are tourist in Madrid, families with kids is other part of tourism and we want to give the best activities to can includes in your plans when arrive to Madrid.
The first activity, is a famous musical, that is performing all the year except august. We are talking about The Lion King. This musical based in the Disney history but with plus, the amazing soundtrack, the special make up and spectacular designee of character dress. This show is considered like one of the major theatrical shows of Madrid.
Feel like a kid in the Warner Park, where you can visit one of the most amusement advanced park of Europe. This park has Warner Bros Movies thematic, and the kids can be the protagonists of his favourite movie. You can see characters of Looney Tunes, Scooby Doo, Tom& Jerry, etc. Imagine that be part of the ACME factory and walking with Lucas Duck. Those and more things can do in this park for enjoy like a little kid.
The cable car is a good plan for all the family, because you can see Madrid city of a different point of view at the same time learn from the heights much of Madrid in 10 minutes of ride in the air.  Its important you know that the ticket is free for children under 3 years, and you can ride the cable car from Rosales Station and finish in House Station double way.
Zoo of Madrid will transport you to the natural environment where the kids can feel in the 5 continents but in only one place. A important data is that in Madrid Zoo live all the species on the Planet. In this place you can find more than six thousand animals of 5 hundred varieties from all zoological groups.  The Zoo of Madrid is located in Casa de Campo.
Europe Park is an extension of gardens that has the purpose to show the most special sights of cities from Europe but, obviously, more little than the originals like: The Eiffel Tower from Paris, Puerta de Alcalá from Madrid, The Atomium from Brussels, London Bridge, The Brandenburg Gate in Berlin, Trevi fountain from Roma and much more insignia from this continent.