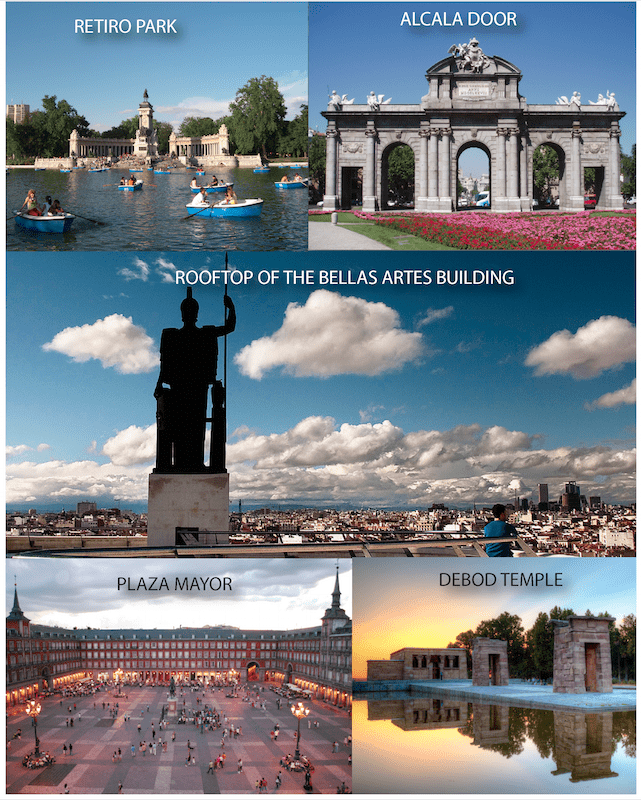 In this location, we show you the 5 activities more touristic that people choose to do in Madrid. We suggest you include in you plans when you go to you destination, and take advantage of the options that you can find in this blog.
The Retiro Park is one of the more big park in Europe, and has many different spaces that you can a lot of pictures for example the glass palace, the internal lake an the rosebushes with his different fountains that beauty the park. Additional you can find a lot of people of the city that use the park to run throughout the day.
Alcalá door was the ancient city gate and welcomed visitors from the rest of Europe. It is one of the most characteristic monuments of the city and one of the most visited.  We take this opportunity to tell you, Alcala's door is the first triumphal arch that rose after the fall of the Roman Empire. It is interesting to know that the door is different depending on which side you see because it is not a symmetrical door.
The rooftop more visited for tourist is the rooftop of the Bellas Artes Building. This is a place in the center of city where you can see important buildings like Spain Bank, town hall of the city, the Cibeles fountain, Metropolis building and part of Gran Via. Additional inside the rooftop you can enjoy a special dishes in the bar – restaurant.
The Plaza Mayor is one of the most characteristic squares in the city. There is located in the heart of the city and has rivalled the tourist importance to the Puerta del Sol, but both were just a few meters and it is easy for tourists to cross from one to the other. This square is often used for special events. You cannot miss the opportunity to meet wonderful place that makes you feel like in an atmosphere of mystic Madrid.
One of the favourite activities for visitants in Madrid is the late afternoon in the Debod Temple. The location of the temple is a strategic point to see the cathedral Almudena and a part d the Royal Palace. Additional in this site you have Green spaces to relax to enjoy a starry night.