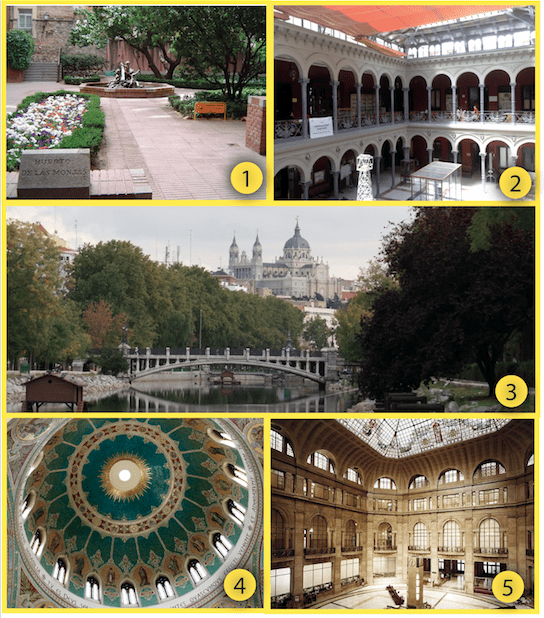 Madrid is known as the city that never sleeps, Madrid hosts a number of hiding places that amaze all visitors, but now show five places that are not famous in town but have magical beauty.
1.- We begin this post through a hidden inner city garden. The nuns' orchard, which remained locked in the walls of a convent in 1972 and was demolished to give life to a garden that denotes an atmosphere of Madrid's Golden Age. This magical place is located in passage between Sacramento Street buildings number 7. We recommend you bring a good book to take a moment to relax in natural surroundings.
2.- The headquarters of the School of Mines, houses one of the finest structures in the city of Madrid. The focus of this building is the main courtyard. In this space you find two floors built with three different materials, granite, brick and stone. The combination of these three elements with the roof made of metal and glass gives a magical lighting that lets you delve into the beauty of the place. Take advantage and visit the rebuilt complex underground mine.
3.- The Victoria Bridge, is a modest building across the Manzanares, which is conjugated to the Almudena, to provide visitors romantic and medieval landscape. This small structure allows you to take a tour on the banks of the Manzanares River and get close to Madrid, a major construction on the banks immersed in the city of Madrid.
4.- The Church of San Manuel and San Benito has one of the most beautiful interiors of the city of Madrid. Undoubtedly the dome was the most beautiful church point, due to its combination of colours and extraordinary in the church ceiling paintings. This place houses an unsurpassed artistic atmosphere. It is located in Alcala Street and access is free.
5.- It's time to show an important building that despite its large size, its interior goes unnoticed. The Bank of Spain is admired for his external beauty, but inside it houses one of the most impressive parts of the city. Very few people visit its interior due to the lack of information about access to the building, but all can access the public area, that would be what was formerly known as Palacio del Marquees de Alcañices that after several extensions it became the Bank of Spain today.