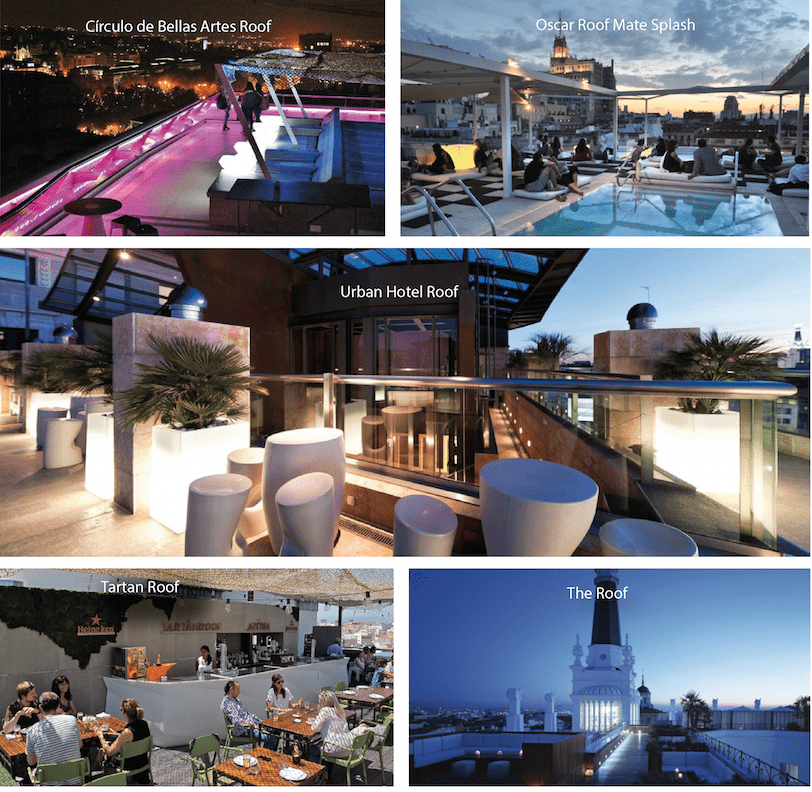 It is time to rediscover Madrid from heaven, and in this article we'll take you to know from the roofs of the 5 places where you will find the best view of the city.
We started telling that Madrid is a city characterized by skyscrapers, but those who have, they are special and very well placed to offer its visitors different views and from different points of the city.
The Roof of Círculo de Bellas Artes in Madrid, is one of the most popular roofs of the city where you have a bar – restaurant where you can enjoy the view of the rooftops and major surrounding streets. Additional its location is very central and has parallel vision of building Matropoli and the City of Madrid.
Tartan Roof is one of the roofs that give you the feeling of heaven. To achieve this feeling they conspire with the flavours of Asian street food and you will sink into a tranquil environment. Worth you can have a meal with a glass of Spanish wine in the roof.
The Roof is one of the most extensive roofs of the city, and is known for the beautiful tower is in the crown. On the roof you will find a bar with different drinks you could choose where they are in season as a red summer to cool the heat of Madrid.
Roof Mate Oscar Splash. It features convey the sensation of being in paradise Ibiza without leaving Madrid, in the opinion of many visitors. The added value you find on that roof is the central swimming pool surrounded with cushions, parasols and cushions you convey an atmosphere of relaxation at each site.
Hotel Urban Roof is one of the most modern roofs of the city features avant-garde style, which takes you to a youthful atmosphere contrasted with the classic Madrid you can see in the surrounding streets. Additional find a restaurant where you can enjoy the famous tapas and I recommend you try tapas of bluefin tuna.