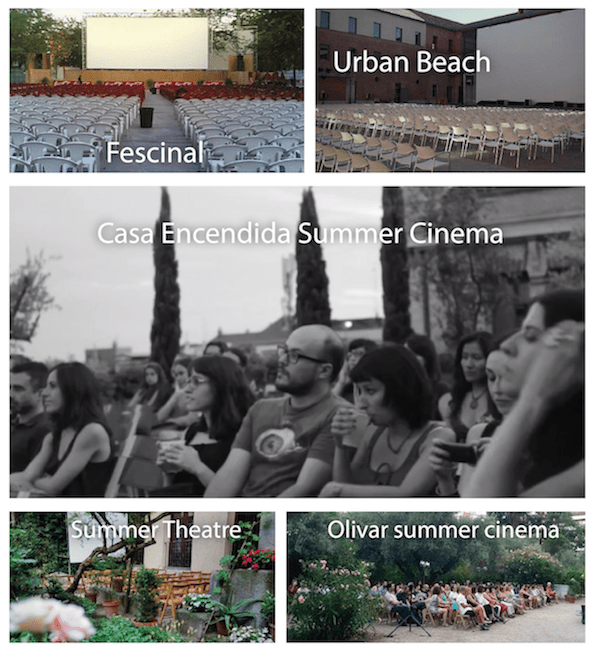 One of the most popular activities at Madrid during Summer Time is to go to the outdoors movies, here you will find the Top 5 options to enjoy a Spanish or International movie during the nights this summer.
Outdoors cinemas are crowded by tourist looking for a low cost, charming, night activity while sharing with local people on a relaxed atmosphere; it is possible to take your own food, lie on the grass and enjoy the stars of the Madrilean nocturne sky.
 Fescinal: Outdoor Cinema at Parque de la Bombilla
An authentic summer classic, this outdoor cinema born 31 years ago as the result of two cinema passionates' idea who wished to share their love for movies with everyone. Fescinal is characterized by a constant evolution; location changes and digital format are some of the features that assistants will enjoy this season. Two movies will be projected simultaneously, non stop, on two giant screens, the films range from Spanish season movies to International best sellings.
The Urban  Beach Cinema Conde Duque
This new edition of Conde Duque Cinema Space has created huge expectations among local and tourist due to the opportunity to enjoy outdoors nocturne premiers and musicals where you will be singing as the movie stars for sure! You will be able to accommodate yourself on a beautiful urban beach, lying down on a extensible chair or resting on an hammock; during weekends you will enjoy itinerant markets, food courts and a wide variety of cocktails and beverages. Opened until September 12, 2015.
This year the terrace of Casa Encendida will be opened for the summer cinema during Saturdays at night. They have scheduled a selection of films called "Marcianadas" (literally "Mars things"), several movies where humans are threatened by aliens; the aim is to change the widespread argument of aliens endangering the human. The films will be presented until August 29 every Saturday at 22 hours (10:00 pm); admittance fee will be no more than 3 Euros per person.
El Olivar a different summer cinema
Due to the natural landscape surrounding the gardens of Olivar de Castillejo Foundation, this is one of the preferred locations of people visiting Madrid. More than one hundred centennial olive trees aside many almond trees serve as decoration for the projection scenario. Functions will begin on July 28 and will last until August 8, daily except Sunday 2 and Monday 3 of August. The schedule is still not available.
Outdoor Theatre at  Casa Museo Lope de Vega
This will be the sixth year of Casa Museo Lope de Vega on this particular initiative of Summer Theatre; even if films are not projected, the outdoor theatre presentations have many enthusiasts at the city of Madrid. The gardens of the Casa Museo will be the place where visitors (18 years old or older) will be received every Wednesday and Thursday between July 1st and 30 at 22 hours (10:00 pm). Admission is free, the tickets may be picked up the same day from 21:50 hours (9:50 pm), only 2 tickets per person.