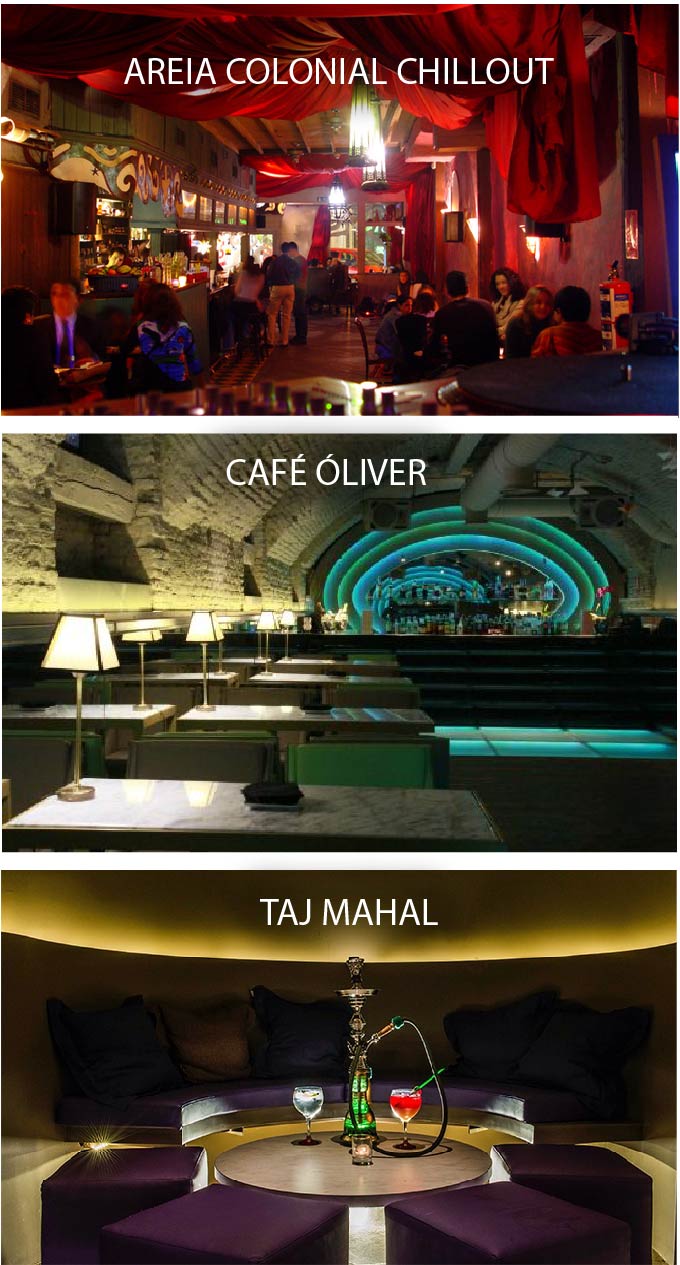 If you are of those looking for new places with a charming atmosphere, you will find here three excellent options to visit during your next trip to Madrid. Three different restaurants with a warm enchantment and a very special menu.
These "Chillout" bars are among tourists' favorites when they need to take a rest and relax during their city tours.
The first of the list is Areira Clonial Chillout, with four different areas, you will be able to choose the one which makes you more comfortable; perhaps you wish to take a drink while standing aside a high table or you maybe feel more comfortable seated on a chair while having a chat with friends; for a more intimate experience another option is to enjoy a tea on a couch or almost lie down on a bed listening good music and sharing a "Hookah". This place is located at the center of Madrid at Hortaleza Street, 92. Opening hours from 2:00 pm (14:00 h) to 3:00 am (03:00 h); average price to eat ranges from 10 to 15 Euros.
Café Oliver (Oliver's Coffee Shop)
A perfect place to hide from the fatigue after a whole day walking through the city. This magic place is divided on two floors, downstairs there is a restaurant with an exclusive menu of traditional Spanish dishes and international kitchen while upstairs there is a "Chillout" bar to enjoy good music and, sometimes even live concerts. A perfect place to have some rest, gain strength and have a good drink. Café Oliver is located at the Ventura de la Vega, 1. Opening hours: Tuesday to Sunday, 1:00 pm (13:00 h) to 4:00 pm (16:00 h) and 8:00 pm (20:00 h) until midnight.
Taj Mahal Bar is located just on the center of Madrid, a nice, charming place to share a "Hookah" and enjoy with friends; this place was intended to create a mythic atmosphere, joining relax a great time. You will have the opportunity to enjoy wonderful cocktails of sparkling but ephemeral tastes but  what really make the difference on this bar are its couches, beds and the fantastic selfservice of liquors and beer from fountains. Taj Mahal Bar has three different locations around the city but the most visited is the one located on the hearth of Madrid at the Victor Hugo, 1. Opening hours from 6:00 pm (18:00 h) to 3:00 am (03:00 h)
Keep in mind locations and opening hours when planning your schedule to avoid getting out of the traced route of your visit.