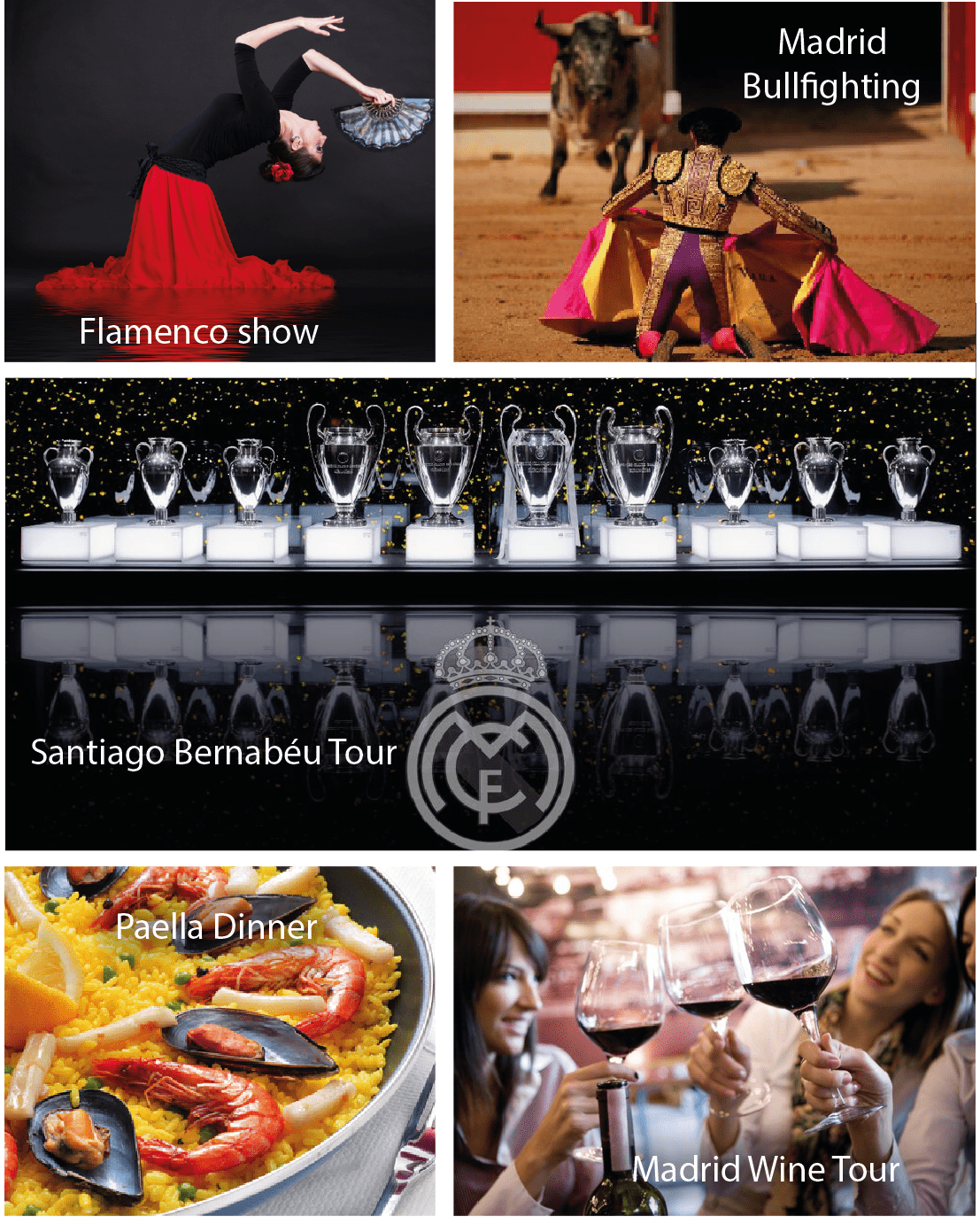 Madrid is a city that offers many cultural activities, entertainment and traditional, however we will make a selection of 5 favorites activities by tourists at the capital of Spain.
Paella, is one of the Spanish cuisine with a global reputation, for its mix of fresh ingredients typical of the peninsula as well as appetizing presentation has also made this a recipe symbol of Spanish culture. Visitors may not go to theSpanish capital without trying a delicious Paella and if we are a little more demanding can be part of a Paella cooking class and we can thus prepare it from anywhere in the world.
Flamenco dancing is the second icon better known throughout the world as the identity of Spain. And this dance is not for less is one of the activities most appreciated by visitors to Madrid. However we go further and merge the art of dancing with the delight of delicious traditional cuisine we talked about previously, La Paella. So if you want to be in a flamenco show enjoying traditional food and the best show you can consult it in Flamenco pack +Paella.
One of the most legendary activities that have remained almost intact overtime are bullfighting and it has become the most characteristic Spanish identity symbol. The bulls apart from being his brand of country, have inspired a great exponents of literature, painting, among other Spanish artistic expressions. Visitors looking to be part of this unique experience and marvel at the impressive building of the Bullring of Las Ventas and feel the value of the bullfighters facing a res of 600 kilos, but from the bleachers. Make sure you find the official entries and select the seats closest to the center of the square.
European wines are categorized as the best in the world and of course Spain is one of the first places, thanks to the quality of both the fruit and wine-making processes have given such a singular position. Visit a typical vineyard near the city and know how this process is carried out is an experience that you might miss if you're a wine lover. Additional would have the opportunity to taste wines and get to know some tips to differentiate them and learn a little more about this vast world. 
To give you a little present in the activities to be in Madrid, not you can miss in your itinerary a visit to the Santiago Bernabéu Stadium, where you can visit theMuseum and see all the titles that have been the Real Madrid, even can visit their dressing rooms and sit on the bench and feel like part of one of the most important teams of European and world football. The Museum of the Santiago Bernabéu Stadium is the second most visited of the city and is a plan that you can not miss on your visit to the capital of Spain.