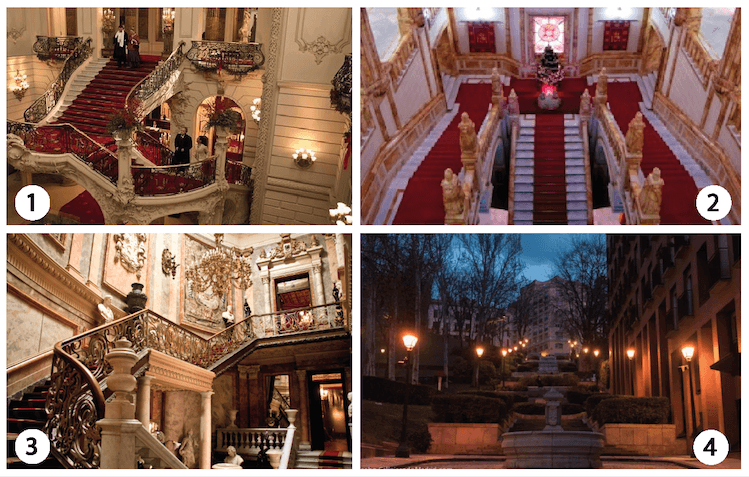 On your visit to Madrid, we offer an innovative plan that will surely be amazed by its simplicity and yet its beauty.
Ever caught your attention the stairs of a house or building? For when you know some of which we present below will surprise you be in one of the most beautiful stairs of Spain and why not in Europe.
1.- Stairs Cerralbo (Rodríguez 17)
The staircase of Cerralbo museum is one of the most beautiful stairs of the city, due to the combination of elements of marble, its wrought iron railing contrast to the red carpet with gold floor.
2.- The slope of the Blind (Segovia 29)
It's a big hill that has a fascinating history and joins the streets of Segovia Street Moreira with 254 steps. Its name is derived from the group of blind men who settled in the bottom of the stairs and used to play their violins in an effort to raise money to passersby in the city, and myth begins when Francis smeared eyes with a little oil and miraculously recovered blind eye.
3.- Casino Street Alcalá (Alcalá 15)
The stairs give access to one of the finest places in the city of Madrid, and of course the steps had to overflow elegance at first glance, since it was the first impression visitors get along, and of course the architect did it because the game golds and reds carrying the ladder.
How are you there are many more stairs lined with art and beauty that Madrid has to show.
4.- Headquarters of the Navy (Calle Montalbán 2)
Built in 1928 with Carrara marble for many is the most spectacular of all living in Madrid. The good news is that you can see when you visit the Naval Museum certain days, more information here.