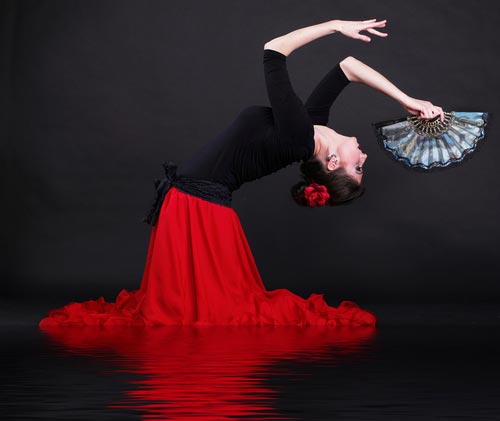 Flamenco is a folk music and dance typical of the Andalusia region in Spain. A flamenco show implicated four different expression, singing called cante, guitar playing called toque, dancing and rhythmical hand clapping called palmas.
There are proves that show flamenco has been a Spanish cultural expression since 1774. Regarding its antiquity and important paper within the Spanish cultural development, Flamenco, has been declare Masterpieces of the Oral and Intangible Heritage of Humanity by UNESCO in 2010.
The gender is a fusion of Spanish and Romani music and dance steps. This is why flamenco is commonly associated with Gitanos –Romani people born or living in Spain. The most famous flamenco dancer and singer belong to this ethnic group.
Flamenco dancers, singer and guitar player usually come from a traditional flamenco family where at least one of their members was a popular dances, singer o guitar player, too. Flamenco dancers are usually form in dancing schools all across the country, but only few of them will make it to become part of an important company. Also, many Spaniards attend to flamenco classes in order to learn how to dance, as flamenco is part of many social important events, especially in Andalusia.
Flamenco is a serious matter in Spain. Theater all across the nation present shows of the most relevant figures of Flamenco, like Sara Baras, Eva Yerbabuena, Joaquim Cortés or Rafael Amargo. There are many flamenco festivals along the year.
Flamenco is much is a complete show that articulates and harmonizes different disciplines in a passionate performance. The theatrical presentation of flamenco is an extended and sophisticated performance, easily comparable to a ballet. A flamenco company usually goes around a main figure a male or female dancer. The secondary dancer and musicians play and accompany the main figure, but never a main couple. The most traditionally companies are entitle by a man, but in the past fifty years, women –bailoras- company has become popular.
Las Tablas Nuevo Espacio Escenico
There is another way to enjoy flamenco especially in Madrid. There are many companies that present their show in a regular basis in different restaurants along the city. Las Tablas Nuevo Espacio Escenico is one of the most famous flamenco show dinners, buy tickets to its flamenco show in Madrid.
Las Tablas Nuevo Espacio Escenico is an experience for the sense. A recreation of traditional Andalusian dinner prepared by a well-known chef accompanied with the best flamenco music and dancing. Dinner also includes the best Spanish wines.
The flamenco show in Las Tablas Nuevo Espacio Escenico changes continuously. This theater restaurant is proud to be a star-up for flamenco new talents. Many important flamenco artist has begun playing, dancing and performing in this tablao.