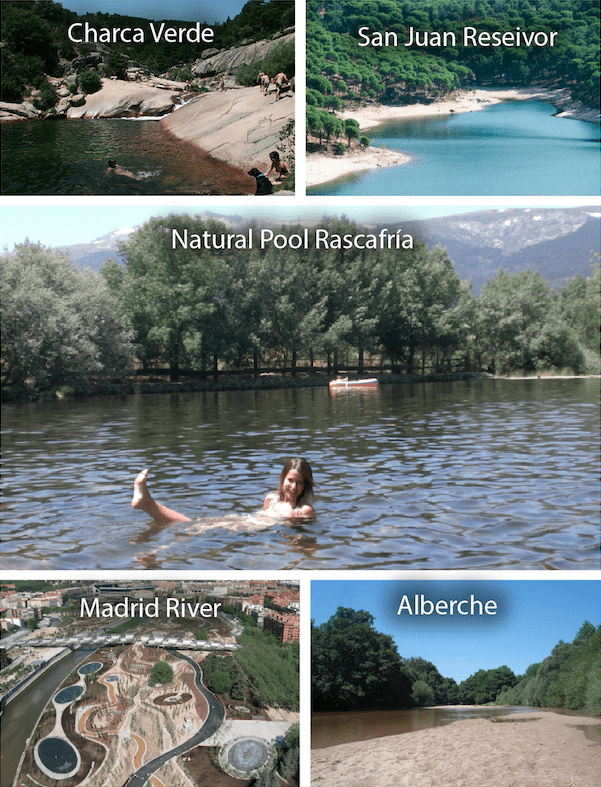 Summer is approaching and we offer whattodoinmadrid.com five alternative plans you can do to when visiting Madrid and you want to cool off on the outskirts of the capital. These 5 plans are approximately 40 minutes from the city and have access to them from the train and bus stations.
If you thought that Madrid had no beach, it is because you have not visited Madrid Rio. It is one of the most entertainment areas by the local people in summer, due to the three pools and walk along the river Manzanares that simulates a beach in Madrid. This plan is perfect to beat the heat in the summer in the Spanish capital. It should be noted that the pools are not in use but has some chairs makes you dive in the beach environment. This extension of green space along the river offers many games for children and for sports and leisure activities.
In the Sierra de Guadarrama a natural pool at the height of one of the Lozoya River dams is presented. This area of ​​green areas and recreational areas is an excellent choice for you to perform economic outdoors. This place offers a different perspective of the Sierra de Madrid and will enchant its panoramic view. Remember to bring your swimsuit and get ready to refresh.
This site-like forest, located in La Pedriza minutes from Madrid, houses one of the most visited natural pools in the summer. Despite having a very inconspicuous name, the Green Pond is a place that stores water that comes directly from the mountains and is housed in a perimeter of 15 meters. Its depth is not much and its rocky environment allows bathers sunbathe on them.
Alberche beach is a suitable place for local people and tourists. They can have a summer getaway with a cool time. This area is controlled by the community of Madrid, thats why the water have quality to be safe when swimming. What if you should keep in mind is that the water is very cold, although the summer is optimal however there for showers with warm water that do not support water.
This is another plan that is usually very appreciated by the ¨madrileños¨ for summer and has become a place full of adventure. The 24 kilometres of beaches that are authorized to cross and scape from the heat of Madrid Summer. You can get without own car, you just have to take the bus at the Príncipe Pío and take bus 551 and leave you in the Reservoir.