Every single neighborhood from the capital city of Spain has its particular charming, and entertainment offer; every district is plenty of history and special places to discover, while walking through the wide avenues or the narrow streets.
On this post you will discover five districts full of interesting places and its own history, for sure; many of them will be included on your next touristic schedule.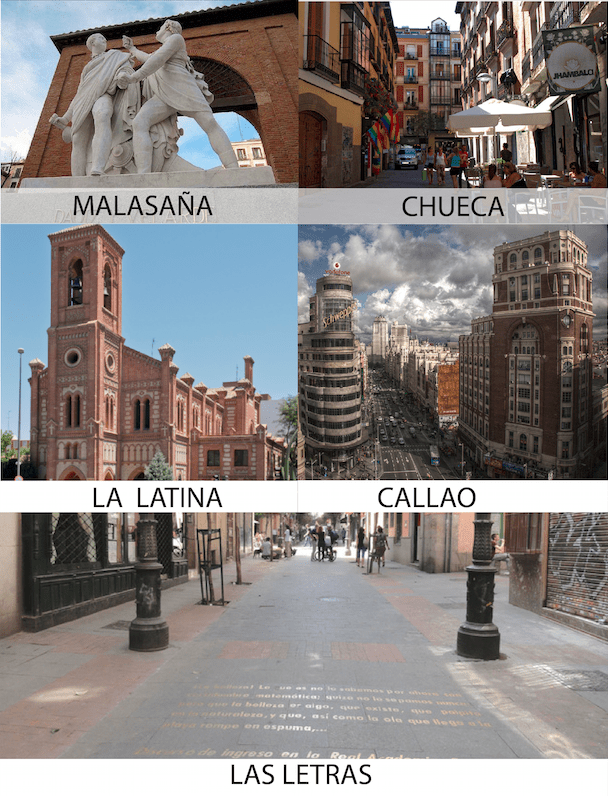 Barrio de Las Letras (Literally "The Letters Neighborhood)
This district is known because of its poets and muses. During the Spanish Golden Age almost every writer lived around here because major theater and leisure activities were located around Las Letras. Famous people like Lope de Vega, Quevedo and Miguel de Cervantes (to mention only a few ones) walked through these same streets many years ago. The district has many restaurants to eat, go for "tapas" (a kind of bite size, Spanish appetizer) or simply to have a drink. It is a nice place to just take a walk on the street but … remember! You must pay attention to find the street where the quotes of some of the above mentioned authors are inlaid.
Barrio de La Latina ("La Latina" Neighborhood)
This district holds a mix of ancient and modern style, there is a non stop movement on the streets all day and night long, particularly on Sundays when locals and tourist crowd the terraces and tapas bars. On the area you will find many iconic markets such as Mercado de la Cebada (Barley Market) and Mercado de San Miguel (St. Michael's Market); there are also many restaurants, most of them still keep its original design from a previous age. Undoubtedly La Latina is the place to go by night due to its lively and noisy streets, a symbol of Madrilean nights.
Barrio de Chueca (Chueca Neighborhood)
Perhaps one of the youngest districts of Madrid today almost all its past has been forgotten to give pass to the modernity and the vanguard; Chueca is compared with the Soho of New York, and is known today as the gay district of Madrid. There is a wide offer of restaurants and pubs to enjoy the Madrilean nights. On your next visit to Madrid you must not miss to have a cup of good wine while listening life music at one of the many bars of Chueca.
El Barrio de Malasaña (Malasaña Neighborhood)
The Malasaña District is known today as the bohemian neighborhood of Madrid because it is plenty of musicians who share their art with the people around the area; but things were not always this way …. Once this area was known as Barrio Las Maravillas (literally "The Marvels Neighborhood") but after the riots of 1808 against Napoleon's troops when many men and women lost their lives it was named as "Manuela Malasaña" Neighborhood in the memory of a young woman who died while defending her fiancee of the attack of a french soldier. If you wish to know more about the passionate history of one of the most iconic districts of Madrid you must visit Plaza 2 de Mayo (May 2 Square)
Callao (Gran Vía) –  Callao (literally "Gret Way")
One of the most crowded districts of Madrid, its iconic buildings are  represented on most of the postal cards and tourists' pictures of Madrid. It is a place to enjoy during the day and the night even when most youths prefer it after sunset, due to lively, bright charm of the stores, bars and theaters attracting thousands of people. Due the its location at the center of the capital, this district has witnessed the evolution of the city. Perhaps is one of the most stunning neighborhoods of Madrid because of its amazing buildings which are not necessary high but covering a huge area such as Metropolis, Telefonica and Carrion Building to name a few ones.