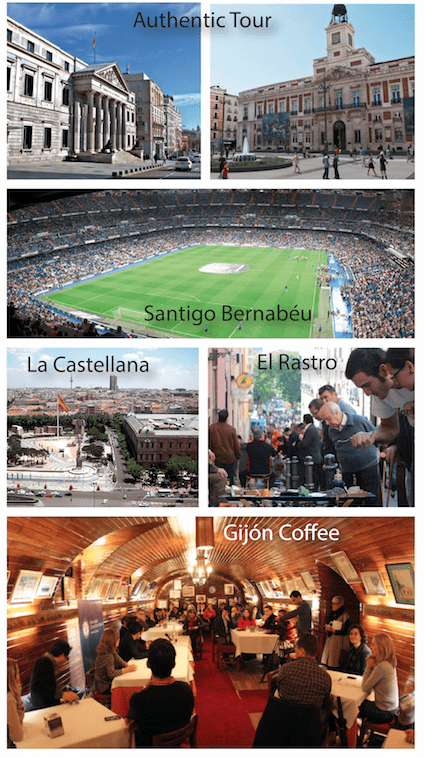 Is time to check more alternatives to know deeply Madrid city, and we can recover 5 stops for visiting hiddensites. If you visit the city in short time like 2 days, this can be good option for you.
The most authentic tour
The streets of Madrid involved to tourist in a ride with many surprises in every park, building or people that conform the authentic stage in Spain. The Rail starts in principal exit Retiro Park in front of San Antonio Carrera. In the way you can see typical stores and the traditional sales. Is common find special things like a traditional candy and abanico for refresh under the sun. When the rais is finifhing in the Plaza Mayor you can see the Arco de los Cuchilleros.
Santiago Bernabéu Stadium
The second place that you should visit in your trip is the Santiago Bernabéu Stadium. In this site you can review all club history and see the original cups that Real Madrid teem got in the last times. Obviously you can admire the uniforms of the sport celebrities more commemorative of last years, especially Cristiano Ronaldo's awards like golden balls.
La Castellana
The third site that you can visit in Madrid is the La Castellana. This place shows the double parts of Madrid, the classic and the modern Madrid. La Castellana has many biggest buildings of the city like the National Library and in font of this; you find one of the biggest plazas in Madrid, Colon Plaza. In here you can see a monument of the discovered of America. This stop of the city is a focus of financial city.
El Rastro
El Rastro considered a favorite activity for the shoppers, because this is the open market biggest of Spain. You can walk inside the market in the Sundays days and here you find a lot of souvenirs, like handicrafts, second hand clothes, cd of music, second hand books, furniture used and many things that you can imaging and in a good condition.
A Special Coffee
In Paseo de los Recoletos, is where you can find the Café Gijón, a famus space to be confortable to take a coffee and read a good book. In this place was important in the postwar period because there was a favourite place where the people gatheren to discus and build the Madrileños culture. This site is a perfect place to take a break in the visit.