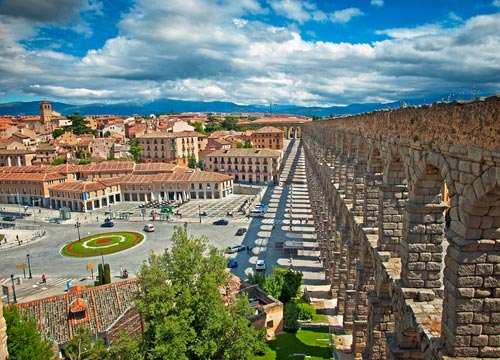 Segovia is one of the Madrid people favorite family getaway. Its amazing Roman aqueduct, its patrimonial churches and its famous food make this city a great place to spend the day. If you are visiting Madrid, the easiest way to get to know Segovia is by taking a day trip package. Our Avila and Segovia Full day tour includes a private guide in English to visit both cities. It departs every day at 9.00 am from Plaza de Oriente.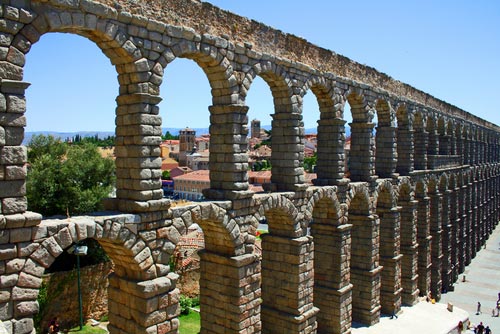 Segovia Roman Aqueduc
Segovia is famous around the world for the best well preserved Roman aqueduct in the Iberian Peninsula. The date of the construction hasn't been determined regarding the lack of legible inscriptions on the monument. Even though the experts think it was building along the 1st century A.D. during the reigns of Domitian, Nerva, and Trajan. The aqueduct brings water from Fuente Fría River, situated 11 miles away in the nearby mountains. When the water arrives to the city is kept in a cistern called El Caserón. Once there the water is transported again to a filter and decanter facility, and then distributed in the city.
The Roman aqueduct is built with granite blocks or ashlars without mortar, using the principles establish by Vitruvius. The highest point of the aqueduct is 92 feet tall. The foundations of the structure get 20 feet inside the ground. It has 166 arches in two rows one above the other and built in two different orders. On the top of the arches there is a canal used to transport the water. This impressive structure has been declared World Heritage Site by UNESCO.
Segovia Cathedral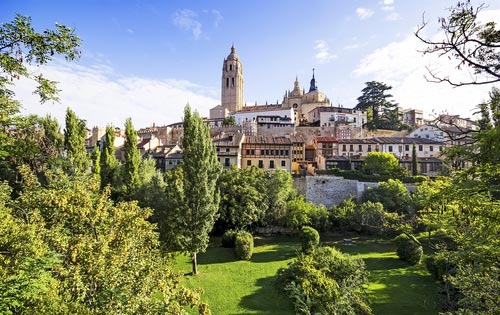 The Segovia Cathedral is the last gothic church built in Spain. It is consider to be constructed in a reinterpretation of the gothic style adding Castilian elements. Besides its architectural peculiarities, this is the largest cathedral in the city and one of the biggest in the country. The main nave is 345 feet long, 165 feet wide, and 108 feet high; it also is surrounded by 18 chapels. Regarding its huge measures, the locals call it "the lady of cathedral".
Besides the cathedral and the aqueduct, Segovia has other beautiful building, like the Alcazar –Royal Castle- built in 1122 to be a resident for the kings of Castile. There are also a big collection of Romanesque churches and chapels: Saint Stephan, Saint Millan, Saint Martin, Saint Andrew, and Saint Clemente. There are also many interesting palaces and manors. Finally, the walls of Segovia close the impressive architectural heritage of the city.
Segovia Food
The Avila and Segovia Full day comprises a lunch in a city typical restaurant, including the traditional roast suckling pork. This curious recipe only found in Segovia, cooks an entire young pork of 2.5 pound for three hours. The pork becomes so tender that can be cut with a china plate, a probe that the waitress will do in a kind of show.