La Liga has finally begun! Barcelona and Sevilla are tied in the first place with 13 points, followed by Atletico Madrid with 11 points, Valencia with 10 points and Real Madrid with 9 points.
After his defeat against Atletico Madrid, Real Madrid have proven to be able to win when they try. Cristiano Ronaldo hits 25th hat-trick for Real Madrid with four against Elche. The Portuguese player is close to become the only player in history to average more than a goal per game after more than 200 games. He is ready to brake all records in the history of Real Madrid.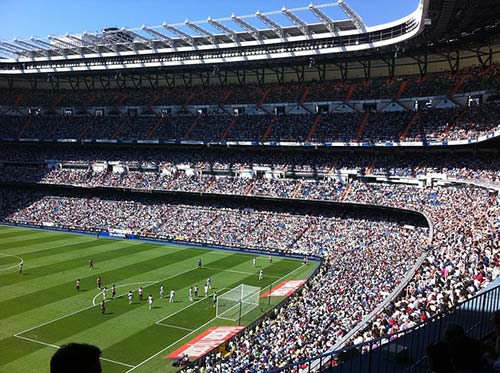 Ancelotti elections proved to be successful. In his first official match, Keylor Navas did it great against Elche. Javier Hernández "Chicharito" scored in the math against Deportivo de la Coruña. Also, Bale has proven to be recovered, scoring two goals Deprotivo and a goal against Elche.
In October, Real Madrid is facing Athletic and Levante. Also the long awaited Barcelona against Madrid will be play on Saturday 25th at 6:00 p.m. Real Madrid – Barcelona F.C. in Santiago Bernabeu Stadium. Buy your tickets now for Madrid vs. Barcelona F.C. 
Regarding to the Champions League, this month Real Madrid will face Liverpool and Ludogorets on their home stadiums.
Real Madrid La Liga matches in October 2014
Sunday, 5th at 9:00 p.m. Real Madrid – Athletic in Santiago Bernaneu Stadium.
 REAL MADRID 5 – ATHLETIC 0 (Cristiano Ronaldo 2 min. Benzema 41 min. Cristiano Ronaldo 55 min. Benzema 69 min. and Cristiano Ronaldo 88 min.)
LEVANTE 0 – REAL MADRID 5 (Cristiano 13′, Chicharito 38′, Cristiano Ronaldo 61′, James Rodríguez 66′ and Isco 82′)
REAL MADRID 3 – BARCELONA 1 (Neymar 3′, Cristiano Ronaldo 35′, Pepe 50′ and Benzema 61′)
Real Madrid Champions League matches in October 2014
Wednesday, 1st October at 8:45 Ludogorets – Real Madrid.
LUDOGORETS 1 – REAL MADRID 2 (Marcelinho 6 min, Cristiano Ronaldo 25 min. and Benzema 77 min.)
Wednesday, 22nd October at 8:45 p.m. Liverpool – Real Madrid.
LIVERPOOL 0 – REAL MADRID 3 (Cristiano Ronaldo 23 min, Benzema 30 min. and Benzema 41 min.)