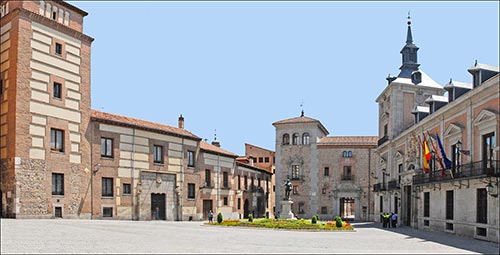 Plaza de la Villa (Village Square) is located in the old part of town in Madrid. It is situated in the so known Madrid de los Asturias, a wide part of the city that started to be built in 1561 during the reign of Carlos I and Felipe II.
Plaza de la Villa is located in Mayor Street and it is surrounded by three buildings that have a great cultural and historical importance. The first one is Casa y Torre de los Lujanes, which was built in the XV century in a gothic-Mudejar style. Second, Casa de Cisneros, built in XVI and finally, Casa de la Villa, built in XVII in a baroque style.
Plaza de la Villa was one of the main hubs of Madrid during the medieval period, since it was in the center of Guadalajara and Vega gates, which were the main accesses to the city during that period. It was first known as Plaza de San Salvador and then the king Enrique IV de Castilla named it Plaza de la Villa in the XV century.
Address
Plaza de la Villa, Madrid, Spain.
Getting there
Plaza de la Villa is only 650 meters away from Puerta del Sol. So, by walking 8 minutes you can easily get there.
From Puerta de Sol head west on Plaza Puerta del Sol toward Calle del Correo. Continue onto Calle Mayor and then turn left onto Plaza de La Villa.
Opening Hours
Since it is a public place, you can go there anytime of the day.