If you are wondering what to do in Madrid at night, we have your answer, playing games in our casinos. Right in Central Madrid you will find two, Casino Gran Vía and Casino Gran Madrid-Colon. Apart from the small locales which offer machine games and sport betting in real-time, those are the two most important suggestions…. but before gambling, take a tapas tour in Madrid. There is nothing better to start playing fully satisfy with great food and great company.
These suggestions are relatively new.  Until recently,  Madrid was lacking in its gambling and casino options. On Alcalá Street you will find one historic building that belongs to the institution called Casino de Madrid. That's a casino, of course, but it is a private club, so only members can get in and enjoy the games and the other attractions it offers.
As of now, there are only two casinos open to general public in the whole Community of Madrid, the Gran Casino of Aranjuez and the Casino Gran Madrid of Torrelodones. However, they are pretty far from the capital and it takes more than 30 minutes by car to get there.
A Few months ago, the capital of Spain inaugurated these two new casinos and they are becoming interesting things to do in Madrid for tourists who like games. In this article we will tell some attractions you will find in those.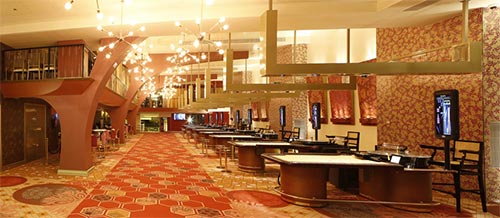 Casino Gran Via
Nowadays, the most central casino in the city is the Casino Gran Via. It is located on Gran Via street 24 (Sevilla and Banco de España Metro Stations, Line 2), one of the liveliest avenues in Madrid when the sun goes down, thanks to its theatres, shops and bars. It is open from 10 AM to 6 AM.
This casino offers different kinds of games in its halls, such as Machines, Black Jack, French Roulette, American Roulette and Asian Baccarat, among others. It is worth mentioning, the  Poker Room, where the best players meet to look for luck and put into practice their master strategies. People who prefer other things to do in Madrid, like concerts and parties, can also find it here along with a restaurant.
The building of this Casino Gran Via is also attractive. It was built in 1924 and it was one of the first buildings constructed on this street and is a symbol of the new Madrid in the early 20th century. Originally, it was the headquarters of the Circulo de la Union Mercantil e Industrial. This was an exclusive society that offered to its members many services such as a gym, reading rooms and offices. Later, it became an administrative building for the government of the Community of Madrid. Its amazing marble stairs, that connect the whole building, and its windows adorn the inside, while the arches and the neo Renaissance decoration astonish outside.
Gran Madrid Colon Casino
The other main casino in Central Madrid is the Gran Madrid Colon. This casino is located in Paseo Recoletos 31-42. The games offered here are also Roulettes, Baccarat, Poker and many machines. It is open from 1 PM to 2 AM and the nearest metro station to get there is Colon (Line 4), as well as Recoletos train station.
This game hall can be considered much more than a casino. People who don't know what to do in Madrid at night can come here and have dinner in one of the most exclusive restaurants in Madrid, Columbus, which is run by Sandoval brothers, a family of high cuisine chefs. There's also a bar & tapas place, where you can eat delicacies and drink amazing liquors.
This building is located on an exclusive avenue, right in front o thef Columbus statue and the National Library of Spain, and not too far from Cibeles square. In this casino, the internal part stands out for showing modern designs and materials, unlike the Casino Gran Via, which is made in a classical way.
In any case, both casinos are a very good choice if you are looking for something different and exclusive about what to do in Madrid at night. Concerts, restaurants, bars and above all, games, many games and a lot of money to earn. Good luck!