Iberian or Iberico ham is a traditional product of Spanish cuisine; its uniqueness lies in the Iberian pig breed chosen. The Iberian Pig is distinguished from other species by its uniform black color and hair shortage. Iberian pigs feed on acorns from October to January and reared on farms in extensive regime. These farms must be within the pasture ecosystem called dehesa; it a forest principally containing oaks and cork oak with areas of grassland and low scrub. This type of ecosystem is typical of the Iberian Peninsula and is considered a derivative of Mediterranean forest.
For ham to be considered Iberico Ham must be made ​​out of Iberian pork. This means that the chosen animal should be at least 50% Iberian race. The different types of Jamón Iberico come from the different regimes of the pig nutrition and the different areas where the pigs are reared –also called denomination of origin (D.O).
Iberico Ham Classification regarding the pig's diet
– Cebo: it means the pig only have eaten fodder.
– Recebo: it means the pig is feed with fodder and acorns.
– Bellota: it means the pig is feed with fodder and acorns, also it is raise in an extensive regime.
The different denominations of origin recognized by the European Union are Huelva or Jabugo, Los Pedroches (Cordoba), Guijuelo (Salamanca) and Teruel. Superficially all Iberico Hams may look similar, but they are not. Their unique characteristics are often given from the weather of the place where they breed. Those characteristics make the ham different not only exteriorly but, interiorly – a pig raised in a colder climate will have more fat.
Besides the breed and the raising, Iberico Ham is known for its dry curing process. The ham is salted and then allowed to dry for months. Although this process the Iberian ham is not too salty. To make Iberico Ham all four legs of the pig are used, but the rear are most appreciated. When the ham is done with the front legs is called paletilla.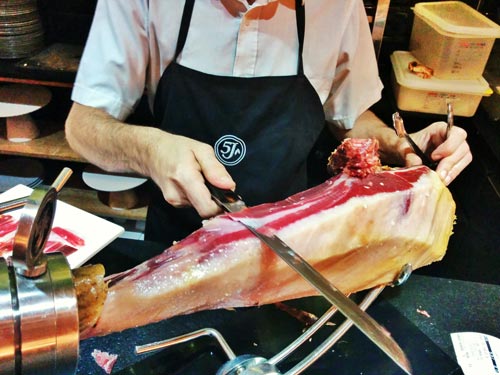 Jabugo Ham
Jabugo Ham is the most popular denomination of origin of the Iberico ham. It refers to pigs raised in the area of Huelva, in Andalusia. Jabugo, the name, refers to a village in the province of Huelva where these pigs are raised and where it says are the best ones.
Serrano Ham
Serrano Ham is a name given to different types of ham that can or cannot be made of Iberian pigs. Usually, white pig are used for it. It principal characteristic is its V-form cut. Anyway Serrano Ham is a product of inferior quality Iberico Ham.
If after reading this article you are interested to try several types of ham during your visit to Madrid, can participate in a Iberico Ham tasting. This experience includes the chance to taste three denominations of origin of Iberian ham with their respective wine pairings. You can also experience firsthand the cutting process and product presentation as well as discover the complex world of Iberian ham together an expert.
Iberico Ham Cutting and Presentacion
Like everything else in Spain, cut Iberico Ham cutting is also a tradition. There are schools and competitions for maestros jamoneros –men who cut ham professionally. The cutting technique is not a simple matter and requires two specific tools: a ham knife and ham holder. The Iberico-ham knife has a long, flexible, narrow blade. The ham support allows the use of both hands when cutting, avoiding touching the food.
Serrano Ham can be cut by machine, because of its low quality, but the Iberico Ham should be cut by hand. To illustrate the cutting process we leave you with this video of the Champion of Spain in ham cutting.
If you are not interested in buying the cutting tools, you can buy cut-ham and vacuum pack it. Most of the ham store in Madrid offer this service for free. Iberico Ham is a great souvenir; take back home a piece of the Spanish gastronomical tradition.
Where to eat the best Jabugo Ham in Madrid?
Iberico ham and Jabugo are Consider one of the best tapas in any tapas bar. Before getting an Iberico Ham ask the waitress cover the quality of the ham served; asking always Jabugo is a guarantee of high-quality. There are certain bars specialized in Iberico Ham where you can also do like a ham tasting trying different D.O.'s and qualities. Usually this places offer a pairing menu including a number of hams accompanied by its correspondent wine.
Museo del Jamón
The Museo del Jamón is the best place to go for a Iberico Ham tasting. This mythical restaurant open in 1978 and offers everyday a menu based in Spanish Ham, also tapas and tastings.
Address
There are many of this franchise stores in the city, most of them in the Downtown Madrid. The most popular one are in Carrera de San Jerónimo, 6; Calle Mayor, 7; and Plaza Mayor, 17.
Opening Hours
Daily from 10:00 a.m. to midnight.
Getting Here
The closest Metro Madrid station is Puerta del Sol.
Where to buy the best Jabugo Ham in Madrid?
Find Iberico and Jabugo ham in Madrid is very simple. It is a product that can be purchased at any deli or grocery store. It can be packaged for long trips and its importation is permitted throughout the European Union, USA and Canada. The most prestigious shops in town for the quality of its Iberico Hams are: Jamonería Lópe Pascual (Corredera Baja de San Pablo, 13), Masgourmets (Plaza de San Miguel), Gordiaz (Plaza de la Marina Española, 7), Museo del Jamón and El Corte Ingles.