The fountain of Cybele is located in Madrid in the Cibeles Square. This neoclassic monument was built from 1777 to 1782. It is in Salón del Padro, just next to the Palacio de Buenavista in front of the fountain of Neptune. It is also part of the Madrid of the Bourbons Route, since the square was part of the of the urbanistic reform promoted by Carlos III.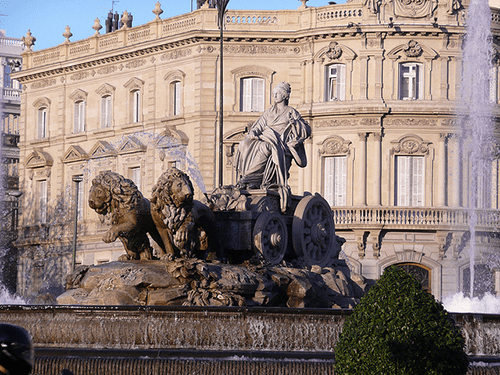 The fountain is 18 feet high and was inspired in the Greek mythology. The artists who elaborated this piece of art were Francisco Gutiérrez, who made the goddess and the carriage; Roberto Michel, who made the lions and Miguel Ximénez and Ventura Rodríguez who were in charge of the decoration. The goddess and the lions were sculpted in marble from Toledo and the rest of the monument in stone from Redueña.
The fountain of Cibeles is surrounded by great buildings: Palacio de Buenavista, Palacio de Linares, Palacio de Comunicaciones -also known as Palacio Cibeles this building hosts the CentroCentro museum- and Banco de España.
Affectionately known as "la Cibeles", this fountain is the good luck charm of Real Madrid. One of the costumes of the Real Madrid soccer team's fans is going to the fountain to celebrate the victories of their team. That is why this place is so linked to that Spanish soccer team.
Address
Plaza Cibeles. Madrid, Spain.
Getting there
By bus
Lines 1, 2, 9, 10, 15, 20, 34, 51, 52, 53, 74, 146, 202 and 203.
By subways
Line 2, Banco de España stop.
Opening hours
Since it is a public place, there are no specific opening hours.