Madrid is the capital of Spain and the biggest city, too. The capital of Spain was a itinerary city until 1561 when Philippe II settled definitely in Madrid. From that moment Madrid became the capital and also the government headquarters.
The name of Madrid comes from the name of the 9th century fortress built in the Manzanares River –the tributary river- named Magerit. There are another theories about the origins of the city name, most of them regarding Madrid symbol "El oso y el Madroño" (The bear and the strawberry tree). If you are visiting you should take a picture of the statue commemorating the symbol in the Puerta del Sol square.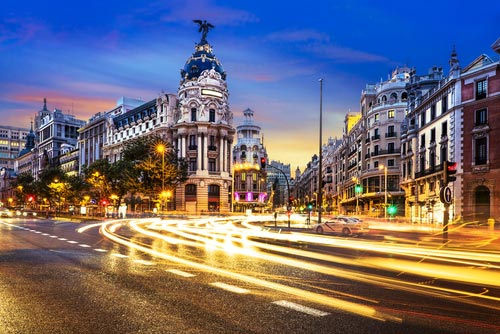 Madrid population
Now a days Madrid population is 3.2 million people for the city and 6.3 million people for the metropolitan area. The population density is 14,000 per square mile. There are not many people originally from Madrid, since the city is the capital receives yearly a big amount of people coming from other countries. There is also a big amounts of foreign students among the 117,000 students living in the city every year.
People from Madrid are called "Madrileños", but they also like to call themselves "gatos" (cats). This curious name comes from a medieval legend that tells people from Madrid are great wall climbers, just like cats. Their fame was well known and they were hired as soldiers for city conquering battles.
Where is Madrid?
Madrid was founded in the geographical center of Spain. All the highways in Spain started from a point called "Kilómetro Cero" (Kilometer zero) located in the center of the Puerta del Sol Square. Madrid is located 300 kilometers or 186 miles away from the coast. The city is located 650 kilometers or 403 miles over the sea level in the Spanish Central Massif. Its located converts it in the highest capital in Europe.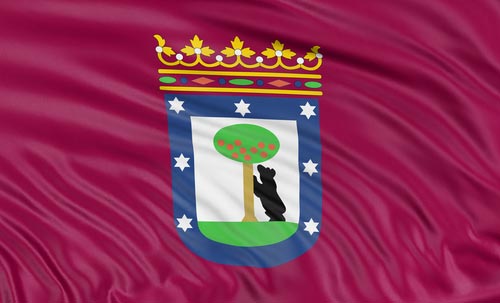 Madrid Flag
Madrid's flag is fully red silk or crimson colored with the city heraldry in the center. The coat the arms represent the bear and the strawberry tree consider the symbol of the city.  Besides the city flag, the state of Madrid –in Spanish called Comunidad de Madrid- has a flag, too. In this case the flag is a simple red cloth with seven stars grouped in two rows, four in the upper row and three the lower one.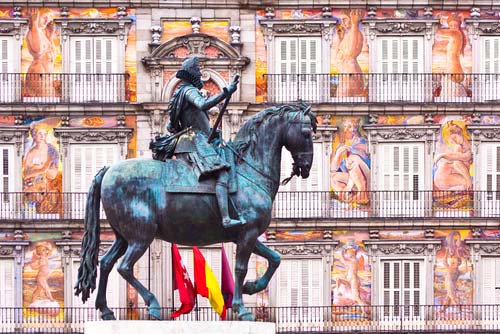 Madrid History
We already explain you that the capital of Spain was where the King of Spain was. The sovereign before Felipe II where big travelers, they moved around their kingdom setting the capital temporary in many different cities. In 1561, definitely settled the capital of the Spanish Empire in the Village of Madrid, transforming it into the future capital of Spain. Surprisingly, there was any legal paper showing Madrid was the official capital until 1931, when in the Spanish Second Republic they included this fact in the constitution.