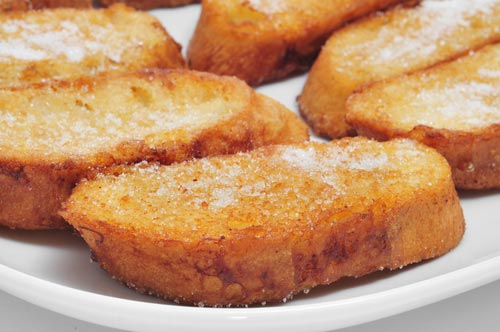 What are Torrijas?
First of all, what are torrijas? They are the Spanish version of a french-toast. This simple dessert has been eaten in Spain since XV century. They were consider a great meal for recovering patients and pregnant women.
Torrijas differ from French toast on three aspect. The first one is that torrijas are made out of old bread. The bread has to be tough – at least two days old bread- in order to keep its consistency after get soaked. Second, torrijas can be soaked in milk, but also in wine making it a perfect dessert for lactose intolerant people. Finally, torrijas are only sprinkle with sugar and cinnamon. You won't get any maple syrup or bacon with it!
When can we eat Torrijas?
Torrijas are often eaten as a dessert, but also as snack in the afternoon or as breakfasts. They are usually sell by units. Bars and coffee shops will have torrijas everyday especially along Lent. There is nothing better than a good torrija after a tapas tour.
Where are the best Torrijas of Madrid?
In Madrid, locals love torrijas. They even have a ranking on the best places to eat them. If you are looking for a traditional torrija, the best places to go is La Mallorquina.
La Mallorquina
Torrijas can be eaten in almost every bar in the city, but it is say that the best ones are from La Mallorquina. This traditional bakery was founded in 1894 by three bakers from Mallorca.
Address
Calle Mayor, 2. 28013, Madrid.
Opening Hours
Daily from 9:00 a.m. to 9:30 p.m.
Getting Here
The bakery is in the corner of Puerta del Sol and Calle Mayor, just 3 minutes away from the subway station.
Pastelería Nunos Madrid
If you are looking for something creative and different, you definitely have to go to Nunos. Their pastry chef is an artist; he made a huge variety of dessert with torrijas as a base, like torrijas ice cream or torrijas yogurt.
Address
Narváez, 63. 28009, Madrid.
Opening Hours
Daily from 9:00 a.m. to 8:00 p.m.
Getting Here
Nothing better than taking a huge cup of hot chocolate with torrijas after walking in El Retiro Park. Nunos is really close to one of the park entrance, just outside the Ibiza subway station.
Torrija Route
If you've visited Madrid and you count yourself in the thousands of torrijas' fans, this may interest you. There is a path called La Ruta de la Torrija (French Toast Route) sponsored and invented by creative people of Madridsabe.es. The route has an app that you can download on their website.
The sweet trail passes through several bakeries in the search of the best torrijas in Madrid. The first stop is Edelweiss Bakery that counts with two shop in the city, on in Hilarión Eslava Street and the other in Paseo de Yeserías. Edelweiss offers an exotic torrija soak in milk with cardamom essences. Then it goes to Gonzales Bakery (Reina Victoria, 68) with a variety of wine or coffee torrija. Those with diabetes or sugar intolerances should try the non-sugar torrija in Hernandez Bakery (Real, 15).
Horno Castellano (Ascensión Bielsa, 3 and La Diligencia, 4) are specialist in chocolate or vanilla torrijas and Paco Pastel (Pozas, 81) a torrija stuffed with cream. The healthy choice can be taken in Diadema Bakery (Espíritu Santo, 6) where they may torrijas with spelt bread and maple syrup. If you are a fan of the traditional torrija with sugar and cinnamon you can try one of this places: La Santiaguesa (Mayor, 73), Lorena (Conde de Peñalver, 78), Marimer (Villaviciosa, 34), La Higuera (Argumosa, 10), Ipenama (Alcalá, 355) and Valdueza (Alcalá, 238).