Madrid is very modern city, but when the second week of May arrives locals change their elegant suits for traditional "chulapo" outfit. It time of San Isidro Festivities that take places around the May 15th.
Chulapos is the colloquial name for the people from Madrid. The chulapos outfit is not a regional costume. It was really how Madrid people dress in the XIX century. The conventions says that woman should cover their head with a white handkerchief and decorated it with a red carnation. They also should dress a white blouse with a polka dot long skirt, and a Manila shawl. Men should wear black vest over a white shirt with a red carnation in the lapel, black pants and checked hat. Just like the ones on the picture below!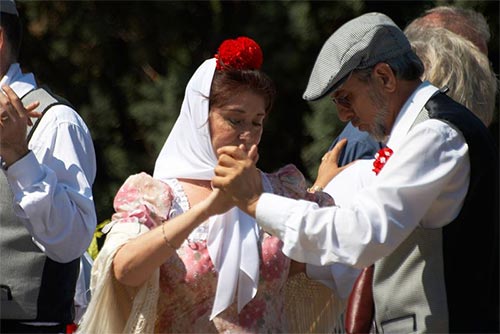 San Isidro's Day
San Isidro's Day is a local holyday in Madrid. In that day locals coming from all Madrid districts peregrinate to San Isidro Park, on a traditional event called "Romería".  A romería is an old word used to designated peregrinations to Rome. Now a days, it has become a synonym of procession.
San Isidro Park was built in 1970 to protect the area surrounding the saint's chapel, where all the parishioners peregrinate. The park is also known by the name "Pradera de San Isidro". It is located in the Carabanchel district, a historical zone of Madrid. San Isidro Festivities has been portrayed by Goya in a very popular painting called "La pradera de San Isidro" in 1788.
After the massive ceremony celebrated in the San Isidro Chapel, there is time to for a bite. The park turns into a huge fair. There are plenty of traditional food stalls, especially those selling sweets and cakes.  The traditions dictates that pilgrims can rest and eat in the outside of the chapel, so locals bring their picnic gear and have a fest.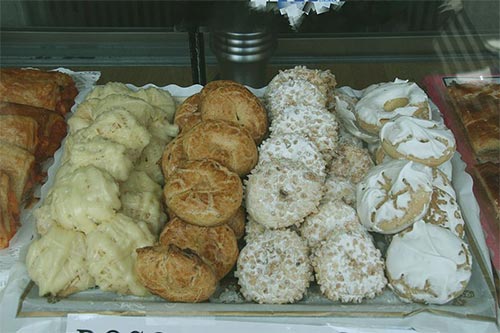 Bullfighting San Isidro Fair
Besides the procession, there are plenty of activities on San Isidro's Day. The Town Hall authorities organized dances and fairs in almost every square in Madrid downtown. The Plaza Mayor used to hold the bullfighting events on San Isidro Day, but since the construction of the Las Ventas Bullring they take place there.
There is a long bullfighting tradition on San Isidro's Day. In fact, Las Ventas most important show take place on May coinciding with the local saint's celebration. If you want to buy bullfighting tickets for San Isidro Festivities, click here.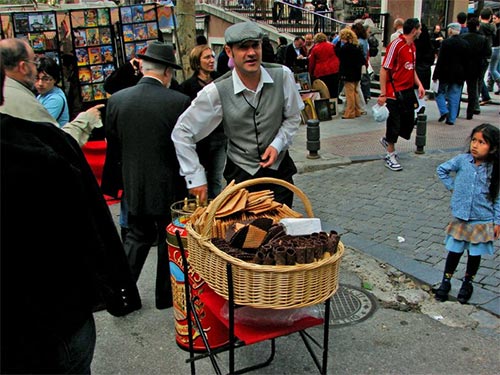 Anyway, Plaza Mayor turn into a fair, with food stalls, music and a carrousel. This day is a unique opportunity to watch Madrid's traditional dances on the square. If you like to party, this is your day. On San Isidro's Day clubs and restaurants prepared special promotions and events. This is probably one of the best dates to visit the city.
Photos under Creative Commons License from WIkipedia.