Spanish Paella has become a very popular meal around the world. The name Paella comes from the Latin word "patella" that mean wide pan. As you can see paella is the name of the pan and the name of the meal.  Sometimes the pan is called paellera to avoid confusion.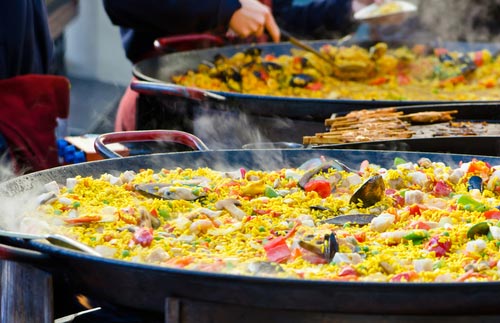 If you want to learn how to cook this Spanish meal, getting a paella cooking class could be an interesting activity to do while you visiting Madrid. In addition to paella, you will also learn how to prepared gazpacho and sangria. After the cooking class, you will enjoy eating your paella. Impress your friend back at home with a Spanish dinner and spend a wonderful time learning more about the Spanish culture.
Paella is mainly made out of rice. It includes sea food, chicken, rabbit, vegetables or legume depending on the recipe. Paella is a Mediterranean meal, but every Spanish region has its own recipe for paella. The original one is claim to be the Paella Valenciana, typically prepared in Valencia region. It contains chicken, rabbit, green beans, tomatoes and garrofón –a local legume similar to broad bean. Even though this is the original paella, most of the people prefers to order sea food paella.
The clue to make a great paella is saffron. Also, its say to use a fish or chicken broth to cook the rise instead of water. If you ask ten Spaniard their secret recipe of paella, provably each one answer something different. This is because paella is a family recipe and everybody has its own.
Where to eat the best paella in Madrid?
In Madrid, you can eat paella every Thursday at any restaurant with menu. There are also several rice specialized restaurants and Valencian cuisine restaurants to sample this delicacy any day of the year.
Casa Valencia
Casa Valencia is a Mediterranean cuisine restaurant, which specialty is paella prepared with traditional products brought from the Valencian coast and orchard.
Address
Paseo del Pintor Rosales, 58. 28008, Madrid.
Opening Hours
Lunch from Monday to Sunday, from 1:00 p.m. to 4:00 p.m. Dinner from Monday to Saturday, from 8:30 p.m. to 11:00 p.m.
Getting Here
Casa Valencia is five block away from Argüelles subway station, served by lines 3, 4 and 6. Also, take buses 21 and 74.
El Caldero
Besides Valencia, other regions famous for its rice. In Murcia they prepare the specialty that gives name to this restaurant. The Cauldron is nothing more than a seafood paella cooked in a clay pot.
Address
Calle de Las Huertas, 15. 28012, Madrid.
Opening Hours
Lunch from Monday to Sunday, from 1:00 p.m. to 4:00 p.m. Dinner from Monday to Saturday, from 8:30 p.m. to 11:00 p.m.
Getting Here
This restaurant is 10 minutes walking from Antón Martín subway station and just a block away from M1 (Embajadores) bus stop.
L'Albufera
If you are in the mood of fancy restaurant, L'Albufera will meet all your expectations. Located inside the Meliá Castilla Hotel, this is one of the fines Spanish cuisine restaurant in Madrid. Inaugurated in 1983 this restaurant was one of the first to serve the authentic Paella Valenciana in the city.
Address
Hotel Meliá Castilla. Calle del Capitán Haya, 43. 28020, Madrid.
Opening Hours
Lunch daily from 1:00 p.m. to 3:30 p.m. Dinner daily from 8:30 p.m. to 11:30 p.m. The restaurant closes in August.
Getting Here
The restaurant is two blocks away from Cuzco Metro Station and four blocks from Tetuán Metro Station.
Arrocería La Esquina Del Bernabéu
This family restaurant is located within the Santiago Bernabeu Stadium Commercial Area. They are specialized in rice meals, offering different recipes from different Spanish regions. The chef does a great job, creating incredible meals with a great taste.
Address
Avenida de Concha Espina, 1. 28036, Madrid.
Opening Hours
Lunch is served daily from 1:00 p.m. to 5:00 p.m. Dinner from Monday to Saturday, from 8:00 p.m. to 11:00 p.m.
Getting Here
Take line 10 of Metro Madrid to Santiago Bernabeu station or bus numbers 14 and 150.