The National Library of Spain is the largest in Spain and one of the largest libraries in the world. This institution is head of the Spanish Library System and is responsible for identifying, conserving and disseminating information about Spain's documentary heritage.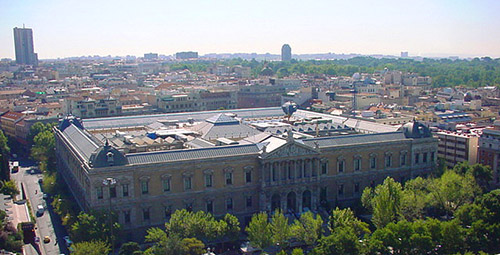 It was founded by Felipe V at the end of 1711 and it was opened to the public in March, 1712. In 1836 the Spanish Crown stopped owing the library and it started to be held by the Spanish Government Ministry and so was called the National Library of Spain (Biblioteca Nacional).
The façade of the main building has six statues made by the artist Agustín Querol and eleven medallions that honor many important writers and historical figures. After its wide staircase, the building has a Corinthian portico with a rectangular pediment. This monument represents the triumph of the Letters, Science and Art.
The National Library holds an extensive and valuable bibliographic collection that consists of books, engraving documents, music scores, manuscripts and numerous printed publications.
The National Library plans and carries out various interesting expositions during the whole year.
Address
Paseo de Recoletos, 20-22 28071 Madrid, Spain.
Getting there
By bus: busses 1, 5, 9, 14, 19, 21, 27, 37, 45, 51, 53, 74 and 150.
By subway: line 4, stops Colón and Serrano.
By train: RENFE station Recoletos.
Opening hours
Reading rooms and services: from Monday to Friday
9:00am a to 9:00pm.
Expositions and museum: from Tuesday to Saturday from 10:00am to 8:00pm. Sundays and holidays from 10:00am to 2:00pm.