The planetarium of Madrid was inaugurated in September the 29th, 1986. Its main purpose is to spread the knowledge and culture of the science of astronomy offering its visitors interesting and stimulating astronomic information.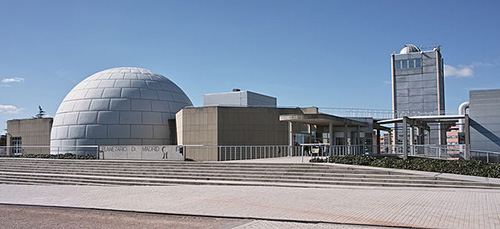 The main room of the planetarium has 100 slides projectors that completely cover the dome, offering the spectators panoramic views. Moreover, there are also 50 projectors that show special effects simulating the Solar System.
One of the most important features of this planetarium is the star projector that consists of ultimate equipment that shows all the stars and planets that can be seen at night with their own movements.
The planetarium counts with three exposition rooms where many conferences take place. All of them also have audiovisual equipment.
Another important attribute of this amazing planetarium is its observatory tower, which is 92 feet high. It has a dome with a 10 feet diameter. In the inside, there is a Coudé refracting telescope with an opening of 0.5 feet and a focal distance of 7 feet.
Address
Avenida del Planetario, 16. Parque Tierno Galván. 28045. Madrid, Spain.
Getting there
By bus
Lines 8, 102, 148, 152 and 156.
By subway
Line 6 Méndez Alvaro stop and Arganzuela-Planetario stop.
By train
Cernanías lines C5, C7B and C10 Méndez Alvaro stop.
Opening hours
Schedule varies according to the season and the expositions they offer. Hence, we recommend you to check their webpage.