What is vermouth?
Vermouth is an alcoholic drink made out of red or white wine and aromatized with various botanicals, including absinthe mainly but onto 40 different herbs depending on the producer recipe.
The creation of this drinks dates from the year 460 BC, when Hippocrates created it as a medicine. The modern versions were first produce in the late 18th century in Italy. It became popular as an aperitif when drink alone, and also as part of another cocktails such as Martini, Manhattan and Negroni.
Vermouth has a bitter flavor. It can be white with a dry taste, or red that taste sweeter. The most popular trades are Campari, Cinzano, Martini, and Yzaguirre. In Spain, there are at least a dozen of different vermouth distilleries and there are many bars that made their on vermouth.
Vermouth: a popular drink in Madrid
Vermouth became popular in Spain along with the rest of Europe. Barcelona, Madrid and Tarragona are the biggest consumers. In Madrid the word "vermouth" was transformed into Spanish becoming "vermú", but keeping its English pronunciation. Sometimes can be seen written also as "vermut".
Old fashion bars in Madrid prepared their own vermouth. The wine and the herbs are together in a tank and the bartender pour it out of a copper tap connected with the deposit. This is the reason why in Madrid, they say they drink Vermouth on Tap. It is usually accompanied with olives or tapas.
Now a days Vermouth has become popular in Madrid. The old fashion bar turn their decorations and menus to please the new hipster costumers looking for Vermouth on Tap. There are many interesting places to have a Vermú in Madrid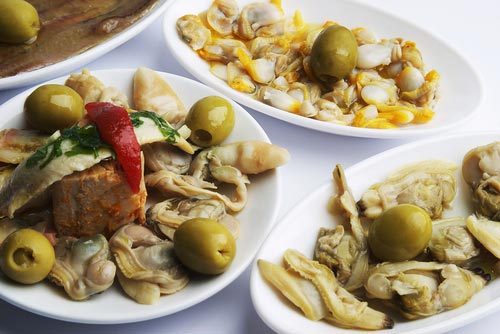 Best places to drink Vermouth on Tap in Madrid
La Fama del Vermouth
The curious named of this bar says it all. It means "the famous vermouth", and in fact this is probably the most popular places in Madrid for Vermouth on Tap. They also are very popular for their beer selection and their enormous tapas.
Address
Calle de Andres Mellado, 90. 28015, Madrid.
Opening Hours
Daily from noon to 2:00 a.m.
Getting Here
Buses: 2 and 12. Metro: Islas Filipinas (Line 7).
Bodegas Ángel Sierra

This a classical Madrid bar inaugurated in 1908. It's a very popular place. It is always crowded. Usually people comes here to take a vermouth with olives, before going to Sunday lunch.
Address
Calle de Gravina, 11. 28004, Madrid.
Opening Hours
Daily from noon to 2:00 a.m.
Getting Here
Metro: Chueca (Line 5). Bus: 3.
Taberna La Concha
Located in one of the most popular areas for tapas: La Latina. This bar is consider to serve one of the best vermouth on tap in Madrid. It also have gin tonics and a very interesting menu. People's most popular choice is Shrimp Carpaccio with vermouth.
Address
Calle Cava Baja, 7. 28005, Madrid.
Opening Hours
Monday to Thursday from 1:00 p.m. to 1:00 a.m. Friday to Sunday from 1:00 p.m. to 2:00 a.m.
Getting Here
Buses: 31, 35, 50, 65 and N26. Metro: La Latina (Line 5).
La Ardosa
Besides offering a good vermouth, this bar has win the locals choice of the best Tortilla de Patata –potato omelet. It is also a historical places, since it was inaugurated in 1892. People like to have a good red vermouth with anchovies –a special anchovies from the Cantabria Sea, in the northern part of Spain.
Address
Calle Colón, 13. 28004, Madrid.
Opening Hours
Monday to Friday from 8:30 a.m. to 2:00 a.m. Saturday and Sunday from 11:45 a.m. to 2:30 a.m.
Getting Here
Bodega de la Ardosa is four black away from Tribunal subway station.