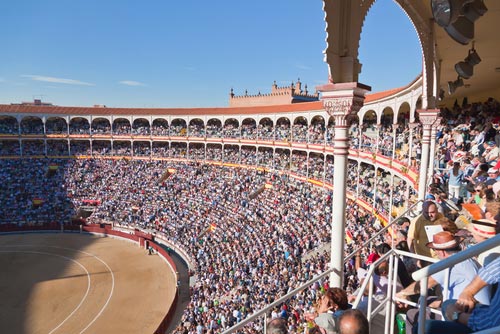 Las Ventas bullfighting ring was built in 1934 in Mozarabic style. It has a capacity of 23,000 spectators. Unfortunately, 80% of the tickets belong to season subscribers. If you want to assist to a bullfight, especially during the San Isidro Festivities, make sure to buy your tickets within a month in advance.
Bullfight tickets are numbered and divided in three main areas: shade, sun and shade and sun. Since the bullfight always takes place at the same time of the day, the sun seats are the ones getting all the sunlight –and the heat—during the show. Moreover, the shade seats are the ones in shade during the show.
Each are is divided in different sections called Tendidos. The tendidos, in turn, are divided into five seats categories: VIP, first category, second category, third category, forth category.  The VIP category seats are the one closer to the arena. The higher the category the farther the seat are from the arena.