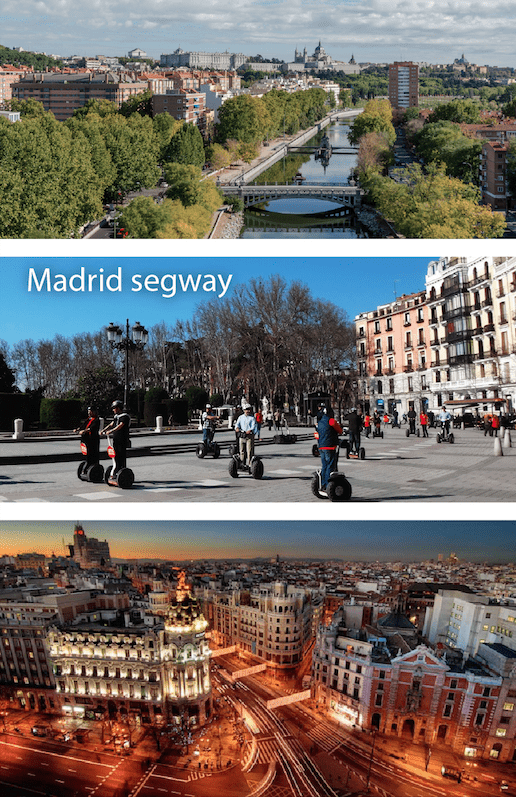 If you are planning your visit to the city of Madrid, you'll love the different ways in which you can walk around the city and enjoy a city that offers culture, modernity and above all an atmosphere for all audiences.
 Madrid offers you several options so that you know it, among them, we highlight today 4 different and entertaining ways to enjoy the capital of Spain, as you like.
Always in good to start with the classics so we bring you the first choice: a Madrid Sightseeing tour. One of the ways is more comfortable to get to know the city, where you can see the most emblematic buildings of old town and the most important areas. You can even make stops to admire the architecture of Madrid with more closeness and at the same time to take pictures at the most visited sites. This alternative includes a stop at the Plaza Colón, where you will find the Hard Rock Café and enjoy a refreshing drink. It is a comfortable plan for a trip with children.
Madrid is a city that is worth while to follow it slowly enjoying every corner, where insurance would like to take a picture of a postcard, and that is precisely what gives you the walking tour. On this walk through the old part of the city, you can delve in Spanish culture at each step you give, due to which a specialist guide of tells the history of the city and the secrets hidden in its streets, avenues, and gardens among others. Travel will take you to a journey to the past so that you find the medieval city that is hidden in the narrow streets of Madrid.
 One of the ways more innovative to know Madrid is through the Madrid Segway tour. It is a comfortable way to travel around the city. Travel offers routes through the streets more features and attractions. One professional guide invites you to stroll and delve into the history of Madrid while having fun and learning. It is important to know that this tour may have two routes, one through the Centre of the city where you'll see the classic Madrid and other green areas of Madrid where you will admire the gardens and areas where it crosses the Manzanares River.
 A last alternative is the cable car. One of the most entertaining to see a panoramic way the city and get to know one of the most extensive parks of city¨ Casa of Campo¨. In this option you can combine it with a walking tour to give you all the information you have already seen from the sky. However we recommend that you first do the walking tour and then the cable car.