Cuatro Torres Business Area is the most recently incorporation to Madrid skyline. As its name indicates –cuatro means four in Spanish- this business district has four towers: Torre Bankia, Torre Espacio, Torre de Cristal and Torre PwC. Now a days, Torre Bankia, with its 820 feet, is the tallest building in Spain. This skyscrapers mainly host offices, but PwC Tower holds a hotel, too.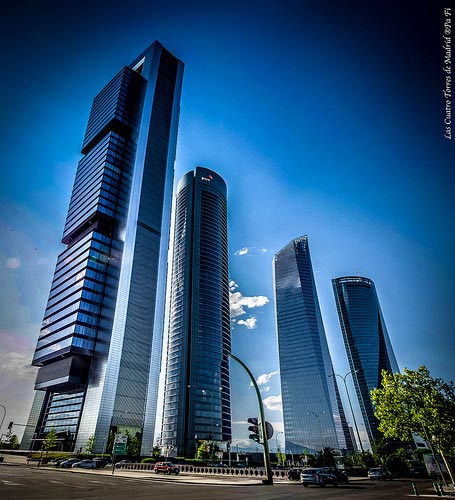 This four towers started to be built between 2004 and 2009, from that moment on they changed the city skyline forever. They are located at the end of Paseo de la Castellana and continue the incredible parade of modern building flanking this avenue. The area still under continuous expansion. The last building incorporated to the complex is the Madrid International Convention Center. It still under construction.
Getting to know the incredible architecture of Paseo de la Castellana is a must-to for architecture-lovers visiting Madrid. Take the bus number 147 at Nuevos Ministerios, get a seat next to a window and enjoy the amazing Madrid architecture.