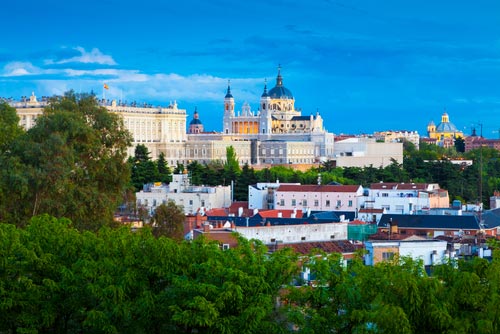 Calle Segovia is one of the most famous ways in Madrid. It is located in Royal Palace borough and goes from Puerta Cerrada to Segovia Bridge. This way draws a straight line inside downtown from a medieval entrance to Madrid. In 1561, Felipe II built its residence, the Real Alcazar, on this street.
Unfortunately, the Real Alcazar burned down and the actual Royal Palace started to be built in the same area in 1738. The best way to visit Calle Segovia and its surroundings is by a Madrid walking tour including Royal Palace.
Now a days, the Royal Palace of Madrid is the official residence of the Spanish Royal Family. There are certain areas of the Palace that can be visit, like the royal armor, the paintings gallery and the Jardín del Moro -a beautiful garden.
Besides de Royal Palace, Calle Segovia has interesting visit along its way like: San Pedro el Viejo church, Anglona Palace and tis gardens, Plaza de la Paja, Casa del Pastor, Segovia Bridge and Las Vistillas Garden. Another important place to visit next to Calle Segovia is Madrid Cathedral.