Gazpacho is one of the most popular Spanish dishes in the world. This soup made out of raw vegetables and bread is an Andalusian recipe, but some consider it to be a reinterpretation of the popular Arab bread soup.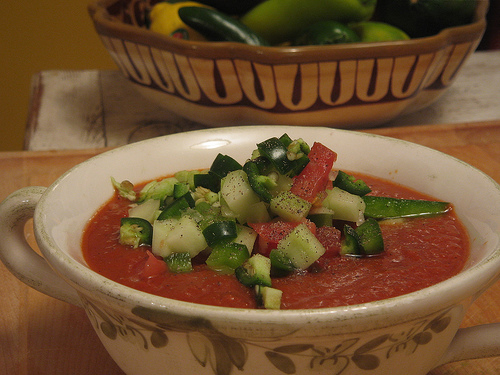 Gazpacho Recipe
Gazpacho recipe includes tomatoes, red pepper, cucumber, onion, garlic, stale bread, white wine vinegar, olive oil and salt. The amount of each ingredient is usually manipulated to create a personal recipe empowering the favorite ingredient of the chef. To prepare Gazpacho you just have to put all the ingredients inside a food processor and add some chilled water. You can also add some garnished like diced vegetables, ham or olives.
Where to eat the best Gazpacho in Madrid?
Gazpacho is a traditional summer starter usually served cold in every restaurant with menu in Madrid. The local foodies consider that Cazorla, Viridiana and La Gazpachería Andaluza serve the best gazpacho in town.
Cazorla
Cazorla Restaurant is a typical Andalusian tavern, ideal for eating tapas and a fresh gazpacho. The decoration of the place is charming with traditional tiles and beautiful pictures of landscapes of Andalusia.
Address
Calle Alcalá, 261. 28027, Madrid.
Opening Hours
Daily from 11:00 a.m. to 5:00 p.m. for lunch. Dinner are only served from Monday to Saturday from 7:30 p.m. to midnight.
Getting Here
The restaurant is within a short walking distance from Las Ventas Bullring and its subway station. The closest Metro Madrid station is El Carmen and the bus stop is served by lines 38, 106, 146, N5 and N7.
Viriana
Although in Viriana you will probably eat the best gazpacho of your life; it is very important to check first if the summer menu features this traditional dish. The chef Abraham Garcia is a really clever man; he makes incredible dishes using traditional Spanish recipes and adding an extra twits. You will not regret eating here, even if you finally do not choose gazpacho.
Address
Juan de Mena, 14. 28014, Madrid.
Opening Hours
Daily from 1:30 p.m. to 4:00 p.m. for lunch and 8:30 p.m. to midnight for dinner.
Getting Here
The closest stop is bus number 19. The closest Metro Madrid station is four clocks away (Banco de España, line 2).
La Gazpachería Andaluza
La Gazpachería Andaluza is not a restaurant, it is a gazpacho store. They have been preparing homemade gazpacho for thirty years in Madrid. They also have a delivery service.
Address
Ferraz, 34. 28008, Madrid.
Opening Hours
Monday to Friday from 10:00 a.m. to 9:00 p.m. Saturday and Sunday from 11:00 a.m. to 4:00 p.m.
Getting Here
This shop is close to Debob Temple, and the closest subway station is Ventura Rodriguez (Line 3). Also you can take bus number 74.