photo credit: jlastras via photopin cc
The urban markets are some of the top Madrid attractions in the city.They have been reformed in a very modern way, but they also host gourmet locals that sell gourmet food and drink, as well as bars that serve you wonderful tapas. If you are wondering what to do in Madrid when lunchtime or dinnertime arrives, just visit San Miguel Market and San Anton Market- you will be impressed!
San Miguel Market, a gourmet tapas place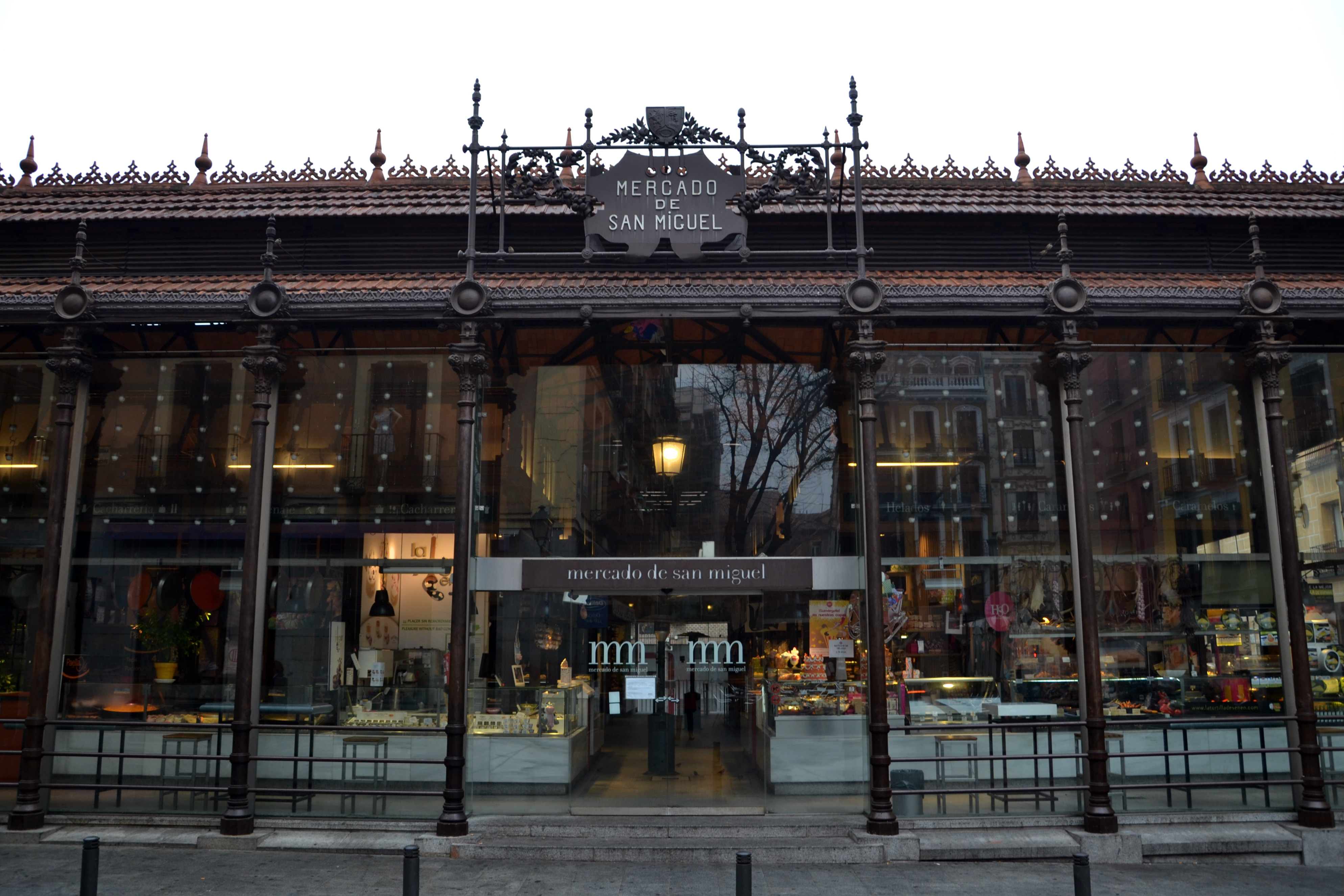 San Miguel Market is now a symbol for tourists in Madrid. However, not so long ago, it was just a humble market  that offered simple fare, like fruit, fish and meat to the neighbours of Central Madrid. Now, patrons can also buy the same type of items but in a much higher quality. The gourmet products you can find in this place are iberico ham, Galician shellfish, Spanish cheese or special fruits, among others.
Serving spirits as well, with a focus on local wine (labeled Wines of Madrid), they also include other wines from other parts of Spain. These include Rioja, Ribera de Duero or Valdepenas.  Beer, is also available in the bars for those that have a propensity for its taste.
The best way to enjoy San Miguel Market is by eating tapas at their usually very crowded tables. By purchasing a glass of wine or a cana (half a pint) of beer, you can also add a small delicacy of ham, fish, cheese or shellfish. The Basque pintxos, is another special region of Spain where you will find sweet food and a special tapas.
As part of the rarity of iron architecture in the capital of Spain, the building of San Miguel Market could also be part of a list that gathers the top Madrid attractions in the city.Also among that list is Atocha and Delicias railway stations. This kind of metal is present outside, accompanied by glass and inside in the roof together with wood pieces.
San Miguel Market is located right in the heart of ancient Madrid, close to the Plaza Mayor. Its address is Plaza de San Miguel s/n. The closest Metro stations are Sol (Line 1, 2 and 3) and Opera (Lines 2, 5 and R).
San Anton Market, a sophisticated market in gay borough
San Anton Market is even more modern than San Miguel Market, as it was reformed and inaugurated even later.  More focused for daily shopping, it also has a draw for the gourmet lovers. The locals sell different types of sausages, a variety of fish including cod, fruit, bread, meat, shellfish, juice and eggs.
La Trastienda, Puturru de Fua or Delicatessen also offer alternative places to experience tapas. The last one is a bar that specializes in food from the Canary Islands.
The San Anton Market is also immersed in culture. A place were young artists show their creations through exhibitions, concerts and other events, Espacio Trapezio is a lovely spot.  You can experience an abundance for the eyes as well as the stomach.
San Anton Market is located in C/ Augusto Figueroa 24, right in the heart of Chueca, which is the gay borough. The closest Metro station is Chueca (Line 5) and it is not too far from other Madrid attractions in the city, such as Gran Via Street and Fuencarral Street, a perfect place to go shopping.
For more travel information, instructional videos and news about the city of Madrid visit:
What to do in Madrid Tours and Attractions – WhatToDoInMadrid